Powering Winter Operations in the Land of Ice and Fire
Powering Winter Operations in the Land of Ice and Fire
New Holland Construction's motor grader is helping Tierra del Fuego, the world's southernmost city, keep moving during a particularly harsh winter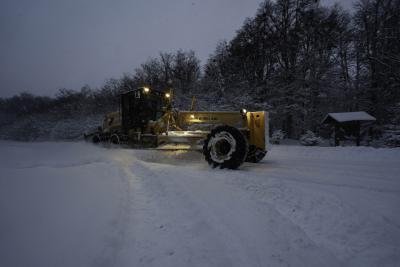 tweet me:
.@CNHIndustrial brand @NewhollandCE is keeping communities connected in Tierra del Fuego following record snow falls. http://bit.ly/2AsWjM6
Thursday, September 19, 2019 - 2:00pm
Severe winters are par for the course in the world's Southernmost City, in Patagonia, Argentina. Following the worst recorded snowstorm in 25 years, New Holland Construction stepped in with its motor grader, helping keep the main artery between the regional capital and the town of Tolhguin in the Tierra del Fuego Nation Park open. 
"The Winter Operation is essential to keep hundreds of towns in Patagonia connected. This year we made an historic investment in state-of-the-art equipment that will allow us to work on over 7,500 km of roads, and at the same time provide a faster and more efficient response to thousands of our compatriots, "said Patricia Gutiérrez, general administrator of Vialidad Nacional, part of the Argentinian Ministry of Transportation.
"The New Holland RG170B motor grader is designed to work in any situation, however demanding it may be. It adapts and delivers across all types of terrain, "said Giovanni Borgonovo, marketing manager of New Holland Construction.
More From CNH Industrial
Friday, June 5, 2020 - 2:00pm
Thursday, June 4, 2020 - 2:00pm
Wednesday, June 3, 2020 - 2:00pm