Partnering to Scale: Bloomberg's Path to RE100
Partnering to Scale: Bloomberg's Path to RE100
Bloomberg Impact Report 2019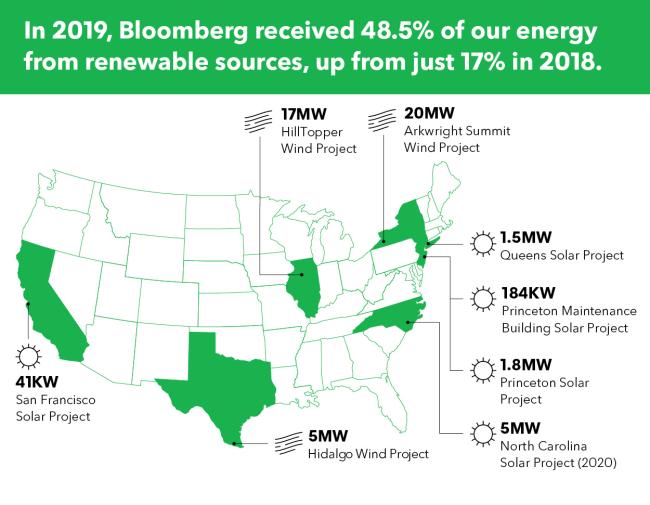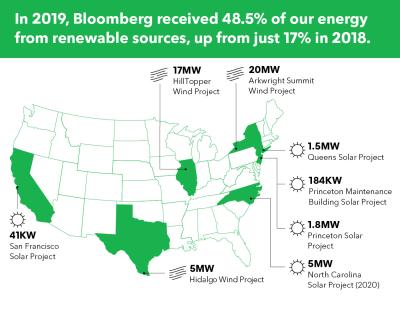 tweet me:
Nearly half of @bloomberg's energy usage now comes from #RenewableEnergy. Innovative approaches such as participation in the Corporate Renewable Energy Aggregation Group set the company on a path to achieve its ambitious 2025 goal https://bit.ly/3cKsb02 #bloombergimpact
Thursday, June 11, 2020 - 12:00pm
Since Bloomberg first began investigating renewable energy projects more than a decade ago, we have exceeded our initial renewable energy goals by investing in both significant off-site wind and solar projects and smaller on-site activities.
However, one challenge we have run into is finding renewable energy projects in the U.S. to supply us with the amount of energy we need at a competitive cost. Renewable energy project transaction sizes have been decreasing in recent years, but the average transaction size is still around 50MW for onshore wind projects and 30MW for solar photovoltaic (PV) projects, according to the Renewable Energy Buyers Alliance (REBA). These sizes are typically too big for our needs.
While Fortune 500 companies with greater energy demands have a larger pool of potential projects to pick from and the internal resources to evaluate these opportunities, it is difficult and time-consuming for smaller companies to obtain renewable energy loads directly from large off-site renewable energy projects. Alone, Bloomberg's relatively small amount of demand is not enough to justify developing new renewable energy projects. Additionally, we believe that it is important to diversify our risk by entering into power purchase agreements at different times and in different regions.
Seeking to increase our choices and ideally provide a roadmap for other companies to follow, a few years ago we began to explore the idea of generating more buying power by pooling our energy demand with other companies. We formed the Corporate Renewable Energy Aggregation Group with Cox Enterprises, Gap Inc., Salesforce and Workday, companies that have similar renewable energy needs, and worked with energy procurement firm LevelTen Energy to find the right project.
In January 2019, our group closed a deal to collectively procure 42.5MW of energy from a 100MW solar project in North Carolina being developed by BayWa r.e. While the group serves as the facility's anchor tenant, our collaborative virtual power purchase agreement (VPPA) allows Bloomberg to obtain just the 5MW of renewable energy we need from the project.
The Corporate Renewable Energy Aggregation Group is already receiving recognition for this initiative, winning the Center for Resource Solutions (CRS) Green Power Leadership Award for Green Market Development and the Smart Energy Decisions Innovation Award for Commercial Offsite Renewable Energy.
We hope that our experience will serve as a model for smaller buyers that want to enter the large off-site renewable energy market and show developers that a market exists for these types of projects, ultimately expanding renewable energy options for companies of all sizes.
For more on Bloomberg's sustainable operations, view the 2019 Impact Report. 
More From Bloomberg
Monday, April 19, 2021 - 1:30pm
Friday, April 16, 2021 - 1:25pm
Friday, April 9, 2021 - 4:05pm