Paradise Not Lost: Wells Fargo Grant Helps California Communities Rebuild After Camp Fire
Paradise Not Lost: Wells Fargo Grant Helps California Communities Rebuild After Camp Fire
Wells Fargo has increased its support for wildfire relief with a $3.25 million donation to the Butte Strong Fund, providing housing and small business recovery for those affected by the deadly Camp Fire in Northern California.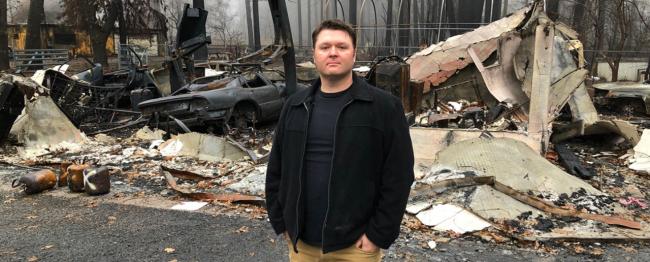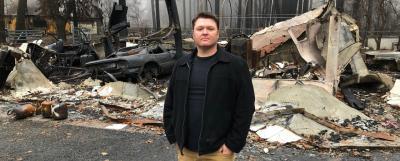 tweet me:
Paradise not lost: @WellsFargo grant helps #California communities rebuild after #CampFire http://bit.ly/2AZG2P5
Monday, January 28, 2019 - 9:00am
Six years after opening his auto repair shop in Paradise, California, Brad Jenks II felt like life was good. Business was steady, and he and his wife Julie could clearly see a future with fewer long hours and more family vacations.
Then the Camp Fire roared into town and tore through Northern California. Visit Wells Fargo Stories to watch the video.: https://stories.wf.com/paradise-not-lost-wells-fargo-grant-helps-california-communities-rebuild-camp-fire.
In just a few hours, the Nov. 8, 2018, blaze left many abandoning their cars and running for their lives. When the smoke and fire were gone, so were Jenks' home and business. In total, nearly 19,000 structures were destroyed — and a quarter were uninsured.

Only 1,400 of Paradise's 12,000 housing units and half of its businesses still stand, said Jody Jones, mayor of Paradise. Schools, shopping centers, the local hospital, and other facilities are so badly damaged they must be rebuilt or repaired. The debris remains, and the city still has no drinking water.

The 153,336-acre blaze — the deadliest and most destructive wildfire in California's history, according to the California Department of Forestry and Fire Protection — also destroyed most of the city of Concow, and significantly damaged the Butte County communities of Magalia, Pulga, and Butte Creek Canyon. At least 86 people died from the wildfire, and 17 were injured, including five firefighters.

Financial assistance to help residents rebuild

In the face of disaster, Jenks and many other wildfire victims are receiving help for immediate needs and to rebuild what they've lost. Wells Fargo has donated $3.25 million for housing and small business recovery to the Butte Strong Fund, administered through the North Valley Community Foundation.

In addition to providing loans to help businesses reopen, the money will help pay for rent subsidies so residents can leave Red Cross shelters, motels, and RVs, and return to more permanent housing. It will also provide temporary workforce housing and help fund the planning and designing needed to rebuild communities impacted by the fire.

A portion of Wells Fargo's donation that funded a grant from microlender 3CORE is helping Jenks make the deposit with a builder to rebuild his business after the fire. "We're overjoyed," he said of the support. "It's the first step in a long journey."

"Wells Fargo's reaction immediately in response to the fire was overwhelming," said Alexa Benson-Valavanis, president and CEO of North Valley Community Foundation, "and now their long-term commitment reminds us that they are not guests here; they are community members and dedicated to this town and our recovery."

Well Fargo's latest donation adds to $2.8 million already contributed in 2018 for California wildfire relief, including $1.275 million awarded Dec. 13, 2018, at a Community Day in Chico, California, where Mayor Randall Stone reported the city is straining to support about 20,000 new residents who fled to the city after losing their homes.

"We're trying to house evacuees while taking care of the needs of our community and finding temporary and permanent housing for all of these residents," Stone said. "Wells Fargo is really sending the message to the region that it is appropriate to invest in the city of Chico, and that we're open for business."

Wells Fargo customers donated $242,714 during the holidays for wildfire relief through the company's ATM donation program. They also redeemed $70,658.67 of their Go Far® Rewards to donate. Since 2007, Wells Fargo customers have given more than $1.3 million in 13 ATM campaigns to support wildfire victims in California.

"As a company with headquarters in California, we stand with the residents of Butte County," said Wells Fargo CEO Tim Sloan. "Wells Fargo wants to be part of the long-term recovery efforts and progress to rebuild Paradise and beyond, as communities emerge even stronger than before."

For the latest donation, Wells Fargo drew on lessons learned after a wildfire — known as the Carr Fire — burned through Shasta and Trinity Counties in California in August 2018, according to Wells Fargo Community Relations Manager Kären Woodruff.

"The road to recovery after the Camp Fire will be long, and it will take time for people to feel they have stability and a place they can call home and start businesses again," Woodruff said. "While we typically make direct donations, having this money in the Butte Strong Fund allows it to be there so it's immediately available when specific projects become solidified as communities rebuild."




'The least I could do, considering their loss'

In the immediate aftermath of the fire, Wells Fargo's Mobile Response Unit rolled into Chico, California, on Nov. 27, 2018, and set up in the parking lot outside of the Wells Fargo branch on Memorial Way where it is still serving customers.

Amber Nevarez, a disaster-trained specialist from San Bernardino, California, stationed in the Mobile Response Unit, said she and others have met with more than 770 customers since November. They've helped customers endorse insurance checks, explained the property-loss process, and discussed options for longer-term assistance if needed.

And they've lifted spirits with simple acts of kindness such as the one that took customer David Balderston and his wife by surprise — the gift of Nevarez's scarf when Balderston's wife said it reminded her of one she'd lost in the fire.

"It was the least I could do, considering their loss," Nevarez said. "Several days later, I ran into them again in Chico, and she ran up to me for a hug."




'We're all in this together'

David Shepler manages the Wells Fargo branch in Paradise left undamaged by the fire. He was relieved when the bank reopened Jan. 9 — one of the first businesses to reopen. A disaster-trained specialist has been stationed there since Jan. 14 to provide assistance as residents return home.

Shepler was among those who had to run for their lives as the fire closed in. His wife and son left ahead of him, and his daughter was even further ahead in a day care van. He said the sights he saw while attempting to rejoin his family remain seared in his memory: a mother trying to carry and run with three small children and an old man trying to run with his beloved birds in their cages.

Shepler lost his home in the fire, as did 11 members of his Wells Fargo team. All received emergency grants from Wells Fargo's WE Care Fund — established in 2001 to help team members experiencing significant financial hardships as a result of natural disasters, family emergencies, and other unexpected events.

Overall, 14 team members, and one that recently retired, lost their homes. "The support we've received from Wells Fargo as team members has been incredible," he said. "The company provided a paid leave of absence for up to two months for me and my team — giving us the time and peace of mind that we had income while taking care of our families over the holidays and tried to get our own lives back in order.

"We're among the majority of the people who lost their homes, and we're all in this together with our customers," Shepler said.

In what Shepler considers a positive sign that residents plan to return to Paradise, about half of the bank's customers have already indicated they want to keep their safe deposit boxes open. Many who lost their keys in the ashes took advantage of the free drilling services the company offered after the fire.

"The Wells Fargo branch here in Paradise has always been part of our community," said Mayor Jones. "They are the first to step up whenever we have something going on in town, and they are very supportive. They have shown that to the nth degree after the fire."
More From Wells Fargo & Company
Monday, August 19, 2019 - 9:00am
Wednesday, August 7, 2019 - 3:00pm
Wednesday, August 7, 2019 - 2:45pm