Oil Primer With Dan Dicker
Oil Primer With Dan Dicker
tweet me:
This wk's @SeaChangeRadio - Oil Primer With @Dan_Dicker
Multimedia from this Release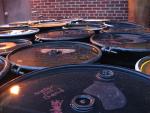 Tuesday, May 22, 2018 - 9:15pm
Have you forgotten the days of $5 gas from a few years ago? Well, after a period of relatively low prices, the price of the world's most-used fossil fuel is on the rise again. Here to explain on Sea Change Radio what is driving the surge in pricing is oil expert Dan Dicker. We discuss the three main ingredients to understanding the global oil market: supply, demand, and geopolitics. We also delve into the role of renewables, what drivers should expect to pay at the pump in the near future, and why he thinks environmentalists should be rooting for oil prices to reach $300 per barrel.
More From Sea Change Radio
Wednesday, November 6, 2019 - 3:25pm
Tuesday, October 29, 2019 - 7:05pm
Wednesday, October 23, 2019 - 12:35pm