The Muckraker: Jared Yates Sexton
The Muckraker: Jared Yates Sexton
tweet me:
This wk's @SeaChangeRadio - "The Muckraker: Jared Yates Sexton" - host @SweetAl interviews @JYSexton about the state of Republicanism in the age of Trump. https://www.cchange.net/2020/04/14/sexton/
Multimedia from this Release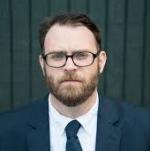 Tuesday, April 14, 2020 - 6:35pm
As most of us have been cooped up doing our best to keep the pandemic at bay, the current resident of 1600 Pennsylvania Ave. has decided that his job is to make daily TV appearances wherein he flouts science, deludes the public, brags about made-up accomplishments, and bullies members of the White House press pool who deign to ask him straightforward questions. It's just another day in this truth-is-stranger-than-fiction reality we are all doing our darndest to get through. This week on Sea Change Radio, we speak with political analyst and author Jared Yates Sexton about a Republican Party that has chosen to be led by a malignant narcissist, a situation that has only gotten worse in the midst of an unprecedented global health crisis. We learn about what Yates refers to as the "Republican Death Cult," discuss the effect this party has had on the climate movement, and get a glimpse of the struggle over universal access to the ballot box.
More From Sea Change Radio
Thursday, May 6, 2021 - 5:05pm
Monday, March 29, 2021 - 2:05pm
Wednesday, March 10, 2021 - 1:15pm