MetLife Founding Sponsor of Working Mother's 2018 Best Companies for Dads
MetLife Founding Sponsor of Working Mother's 2018 Best Companies for Dads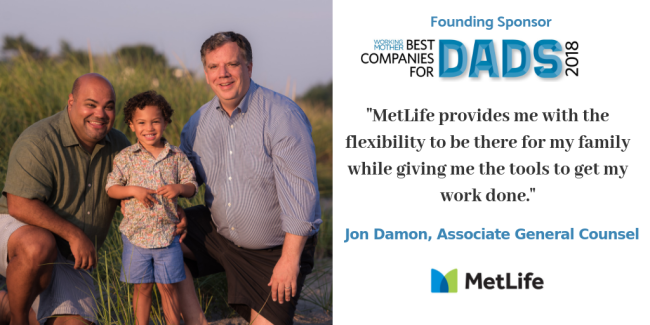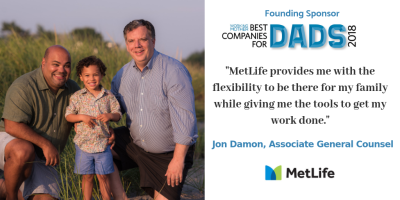 tweet me:
.@MetLife founding sponsor @_workingmother_'s 2018 Best Companies for Dads http://bit.ly/2z6dwKX #WMBestForDads #paternityleave
Tuesday, November 20, 2018 - 3:45pm
There is a growing recognition that there are different ways in which families are constructed and how they operate.  To that end, MetLife initiated a program in the last few years to help defray some of the legal and non-medical costs of surrogacy.  We have also expanded paternity leave, and seen an increase in fathers taking that time.  From my own experience, I can say that I was one of the first officers to take a paternity leave as a primary care giver and received excellent support from the Company and my colleagues throughout that experience.  And I am preparing to take a similar leave in the next few months as my husband and I expect our second son. -Jonathan A. Damon, Associate General Counsel, MetLife
About MetLife
MetLife, Inc. (NYSE: MET), through its subsidiaries and affiliates ("MetLife"), is one of the world's leading financial services companies, providing insurance, annuities, employee benefits and asset management to help its individual and institutional customers navigate their changing world. Founded in 1868, MetLife has operations in more than 40 countries and holds leading market positions in the United States, Japan, Latin America, Asia, Europe and the Middle East. For more information, visit www.metlife.com.
More From MetLife, Inc.
Thursday, November 12, 2020 - 12:10pm
Friday, October 23, 2020 - 1:55pm
Tuesday, October 20, 2020 - 9:15am