Meet These Trailblazing Women at 3BL Forum
Meet These Trailblazing Women at 3BL Forum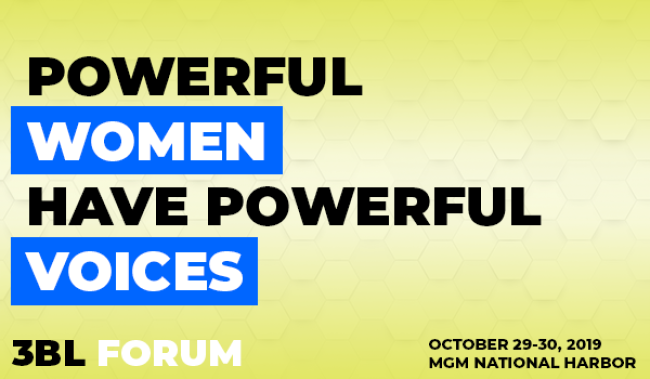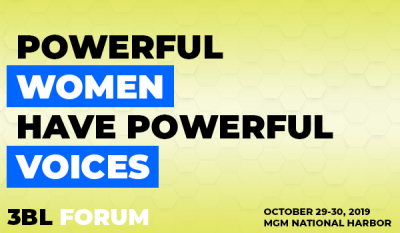 tweet me:
Among this year's speakers at #3BLForum, nearly 60% are trailblazing women ready to share their stories as they lead the way in their respective fields. Find out more & register here: http://bit.ly/2L9TMve
Tuesday, August 27, 2019 - 11:20am
Everyone has a voice. But at a time when there's seemingly limitless ways to share that voice, it's how you choose to use it that matters.
That's why speakers at 3BL Forum Brands Taking Stands™ – What's Next stand out.
With just two months to go before the October 29-30 3BL Forum, our 80+ speakers are getting ready to share their voices by offering world-class insight into the relevant and timely topics in sustainability and CSR today. Among this year's speakers, nearly 60% are trailblazing women ready to share their stories as they lead the way in their respective fields, including:
MGM National Harbor President and COO Melonie Johnson, who has a unique perspective on what it takes to get a seat at the leadership table.
Black & Veatch President and Chief Human Resources Officer Stephanie Hasenbos-Case, who will share what it means to be intentional about the workforce of the future.
CECP Managing Director Kari Niedfeldt-Thomas, who will bring her perspective to the stage on what she is hearing from senior leaders around the country. 
Porter Novelli/Cone VP of Marketing/Research & Insights Whitney Dailey, who will call your attention to what is driving activism in our nation's young people, as well what every company needs to know to engage, inspire and activate them.
Join these and other exceptional women at 3BL Forum for two days of fast-paced discussion aimed at answering some of the most simple yet impactful questions, such as "why," "how," "what's next" and "where are we headed."
"This year's conference will feature some exceptional women on our main stage," said Executive Producer Lynne Filderman. "In speaking with each of these women in the run-up to our 'high-octane' event, I have heard firsthand their candid and authentic voices, whether focused on brand purpose, women's leadership, intentionality of the future workforce, bridging corporate silos or insights into 'what's next.' You can be assured they will bring their experiences and unique perspectives to our two-day conversation."
Explore this year's current lineup of speakers with more added every day (https://www.3BLforum.com).
Contact
Margie Kuchinski
Director of Brand Marketing at 3BL Media