Maurice Plaines on America's Epidemic of Racism
Maurice Plaines on America's Epidemic of Racism
tweet me:
This wk on @SeaChangeRadio - "Maurice Plaines on America's Epidemic of Racism" https://www.cchange.net/2020/06/09/plaines/
Multimedia from this Release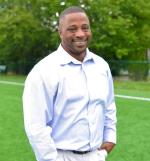 Tuesday, June 9, 2020 - 4:45pm
This has been a difficult stretch for the country with millions sick, out of work, or simply stuck at home. But the horrific murder of George Floyd shifted our collective focus to a very different sort of epidemic. Mr. Floyd joined the names of Tamir Rice, Michael Brown, Eric Garner, Philando Castile, Breonna Taylor and thousands of other African Americans who have been killed by the police in this country. We often hear that at times like this we need to have a national conversation about race, but where do we start? Host Alex Wise decided to start with a personal conversation with a longtime friend, to get his insights into what it feels like to grow up Black in America and to better understand the work that needs to be done on the racial justice front. This week on Sea Change Radio, in the first of two conversations about race, we welcome Maurice Plaines, a high school friend of our host who works for Emerging Scholars Program in the DC Metro area. We discuss racism and police brutality in America, his own reaction to George Floyd's murder, and the work of his organization to broaden educational opportunity for students of color.
More From Sea Change Radio
Thursday, July 16, 2020 - 9:25am
Wednesday, July 15, 2020 - 7:30pm
Tuesday, June 16, 2020 - 7:05pm