Marlin's Educational Legacy Continues to Multiply, Even After Closure
Marlin's Educational Legacy Continues to Multiply, Even After Closure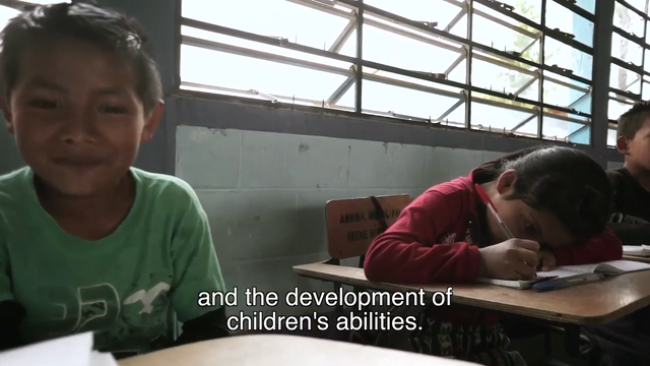 tweet me:
Goldorp's Marlin Educational Legacy Continues to Multiply, Even After Closure http://bit.ly/2u2VcyJ
Tuesday, July 18, 2017 - 1:00pm
In the third installment of our four part tribute to the legacy of Marlin mine, which ceased production in May 2017, we focus on the educational benefits this mine has brought to its local communities in the San Marcos region of Guatemala.
Goldcorp has always believed that education is the key to opening doors of opportunity. However, historically, few students in the San Marcos region progress beyond primary school. We have worked with communities to help remove barriers to ongoing studies and educational programs by providing support at all levels, from funding scholarships to training teachers to building and equipping schools.
Throughout the years, our Integral Education Community Program at Marlin has funded infrastructure improvements to 182 schools in 77 communities, including installing fully-equipped computer labs, school kitchens and sports fields. We have also funded the accreditation of teachers in courses geared towards capacity building and leadership development, which has benefitted thousands of students in nearby communities. One example is through an education program carried out by the Fundación Sierra Madre, where we provided aid for education improvement for school teachers in 22 communities.
In 2016 alone, 215 students received scholarships from Goldcorp (101 in elementary school, 109 in high school and five in university), and our program has seen a total of 133 graduates. Outstanding students in our Bolsa de Estudios scholarship program receive USD$40 per month for elementary school and USD$107 per month for high school or university. We're particularly proud of the joint endeavor by Marlin mine and the CanEducate Alliance, which has resulted in a pilot program for primary school children designed to instill a passion for learning from an early age. CanEducate has donated USD$50,000 – partly from funds raised by Goldcorp employees in Canada – and provided 150 scholarships for ongoing studies.
All told, we have awarded a total of USD$7 million in community scholarships, earning us the National Prize for Community Contribution in Education from the US-Guatemala Chamber of Commerce.
In addition to educational contributions focusing on youth and communities, we have worked with CONALFA, Guatemala's national literacy authority, and the Ministry of Education to improve the literacy rate of our mine workers, providing 4-5 hours of volutary instruction per week. According to CONALFA, 17% of the nation's population can neither read nor write. Among our workers, drawn largely from the rural population, that number was closer to 10%. In 2012, the first 70 graduates from Marlin mine received their government diplomas. The program continued with a goal of 100% literacy at Marlin.
Anticipating the end of operations that would necessitate workforce reductions, since 2015 the company has also provided training opportunities to provide transferrable skills for employees and contractors.  Nearly 1,000 workers participated in individually tailored training programs, including financial planning  to help them prepare for the mine's closure.
"From urgently-needed healthcare services to new educational and skills training programs, our company has invested a total of USD$57 million in social programs related to the Marlin mine," added Roldan. "We hope that by creating a solid foundation for the community to be able to grow and develop key skills and access critical support services, we will be setting the stage for life-long success."
More From
Friday, April 5, 2019 - 6:45am
Thursday, April 4, 2019 - 6:30am
Wednesday, April 3, 2019 - 6:00am