Lloyd Alter: Design Trends in Housing + E-Bikes
Lloyd Alter: Design Trends in Housing + E-Bikes
tweet me:
This wk's @SeaChangeRadio - @LloydAlter of @Treehugger discusses design trends in housing + E-Bikes https://www.cchange.net/2020/12/08/alter/
Multimedia from this Release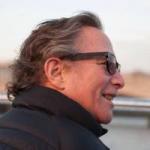 Wednesday, December 9, 2020 - 1:45pm
2020 has certainly been a strange year. Everyone is waiting for things to go "back to normal" but what will normal be? Will there be any adaptations from this period that become permanent? Will we all be telecommuting and zooming indefinitely? Will urban centers continue to empty out? This week on Sea Change Radio, we speak to design professor and environmental journalist Lloyd Alter. We discuss the trend of people leaving cities for less dense pastures, look at new ways to consider home design now that so many of us are housebound, and take a look at buying options for one of the products that has seen a COVID-19 boom: electric bikes.
More From Sea Change Radio
Thursday, May 6, 2021 - 5:05pm
Monday, March 29, 2021 - 2:05pm
Wednesday, March 10, 2021 - 1:15pm