LifeGate PlasticLess Reaches the UK, the First Rubbish Bin of the Sea Installed Thanks to Whirlpool
LifeGate PlasticLess Reaches the UK, the First Rubbish Bin of the Sea Installed Thanks to Whirlpool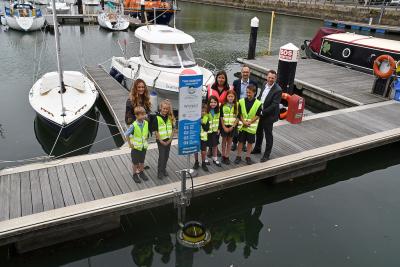 tweet me:
The UK welcomes LifeGate PlasticLess, the innovative project against plastic pollution that has already swept over Italy. Portishead, near Bristol, receives its first rubbish bin of the sea thanks to Whirlpool Corporation. http://bit.ly/2Z96xLE
Wednesday, June 5, 2019 - 9:15am
It isn't known exactly how long the coast of the United Kingdom is. The main island of Great Britain alone is estimated to have around 18,000 kilometres of coastline, according to the national mapping agency. If the largest of the other islands are also factored in, this increases to over 31,000. Distances that are difficult to visualise but give an indication of how much coastal environments are an integral part of this country's geography, and therefore society. A nation that, like many others, is experiencing the brunt of the plastic pollution emergency affecting waterways and seas: an average of 5,000 objects of plastic waste have been found in the UK per mile (1.6 kilometres) of beach.
More From Whirlpool Corporation
Thursday, May 14, 2020 - 9:00am
Wednesday, May 13, 2020 - 8:00am
Tuesday, May 12, 2020 - 9:00am