Las Vegas Sands Releases Newest Environmental Report
Las Vegas Sands Releases Newest Environmental Report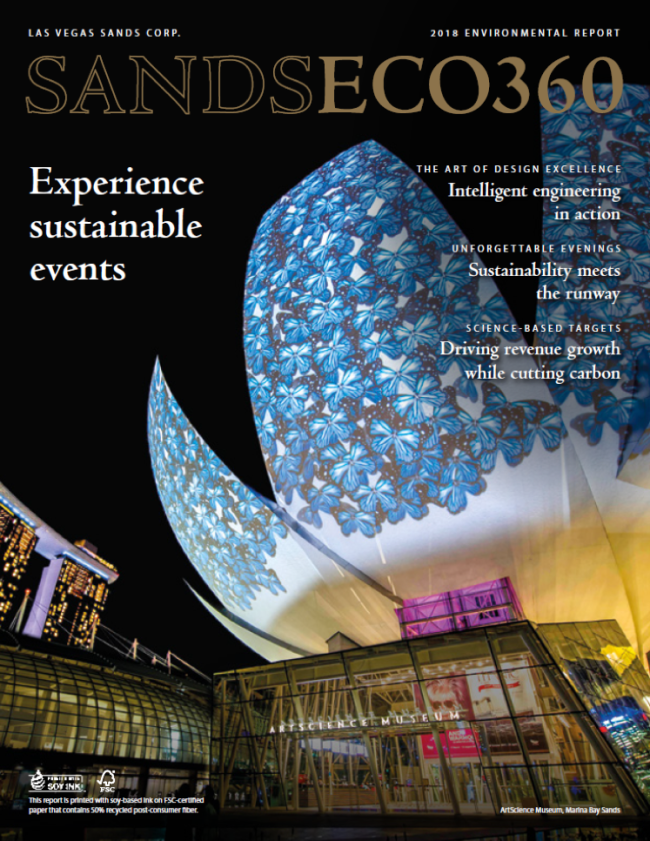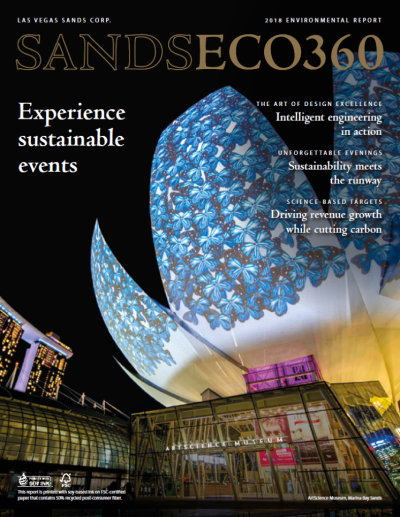 tweet me:
@LasVegasSands releases 2018 Environmental Report which dives into global #SandsECO360 #sustainability initiatives ranging from energy to waste, to plastics, any beyond. Read the full report here – https://bit.ly/2WXw2T0
Tuesday, June 11, 2019 - 10:30am
This year was a year of sustainability milestones and achievements for Las Vegas Sands, the global Integrated Resort developer and operator with properties in Macao, Singapore, and Las Vegas. Detailed in their newest 2018 Environmental Report, the company highlights Sands ECO360 initiatives ranging from energy to waste and plastic, and expands on some of their most notable 2018 eco-moments. 
The iconic ArtScience Museum at Marina Bay Sands became the first known museum in the Asia-Pacific region to achieve LEED® certification while The Parisian Macao became the first Integrated Resort in Macao to obtain LEED® for building design and construction. The integrated rainwater harvesting system at the ArtScience Museum and attainment of 100% LED light bulbs at The Parisian Macao are part of the many initiatives that make these buildings green.
In 2016, the company set ambitious emissions reduction science-based targets intended to future-proof business growth. The resort operations target requires a 6% reduction in greenhouse gas emissions in addition to conserving enough power to compensate for the entire energy consumption of two newly opened resorts, The Parisian Macao and The St. Regis Macao. Although the company is only halfway through the five-year timeframe to meet this goal, they have already reduced their emissions by 5.8%. In parallel, they have shown a 17.5% increase in net revenues since 2015, demonstrating that it is possible to decouple business growth from environmental impact.
Each of Las Vegas Sands properties are advancing on single-use plastic reduction as well. Sands China Ltd., a subsidiary company, eliminated annual use of approximately 2.2 million plastic straws, and are expanding their efforts to reduce plastic water bottles on the casino floor and in hotel rooms. 
Check out Las Vegas Sands 2018 Environmental Report for detailed information on sustainability initiatives and performance!
More From Las Vegas Sands
Thursday, March 5, 2020 - 4:15pm
Friday, February 21, 2020 - 2:55pm
Thursday, February 20, 2020 - 10:30am