Keysight Technologies Celebrates Patti Key, Vice President of Network Applications and Security Sales for Women's History Month
Keysight Technologies Celebrates Patti Key, Vice President of Network Applications and Security Sales for Women's History Month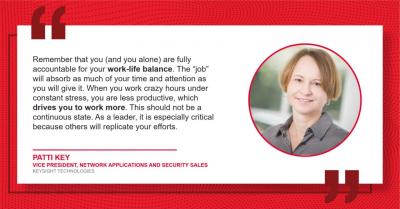 tweet me:
In honor of Women's History Month, @Keysight celebrates Patti Key, Vice President of Network Applications and Security Sales, focuses on keeping a great work life balance. Check out her advice: https://bit.ly/2WMvAXg #WomensHistoryMonth
Tuesday, March 31, 2020 - 2:25pm
In honor of Women's History Month, Keysight Technologies celebrates its women leaders who do so much for our technology, our business, and our culture. We asked them the best advice they have received and that they would impart to the next generation of women entering the workforce. Read the sentiment above from Patti Key, vice president, network applications and security sales.
More From Keysight Technologies
Thursday, September 17, 2020 - 12:00pm
Tuesday, September 15, 2020 - 12:00pm
Thursday, September 10, 2020 - 12:00pm