Joel Solomon: the Dirt on Clean Money
Joel Solomon: the Dirt on Clean Money
tweet me:
This wk's @SeaChangeRadio - "Joel Solomon: The Dirt On Clean Money" http://www.cchange.net/2017/11/14/joel/
Multimedia from this Release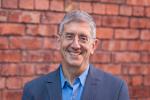 Wednesday, November 15, 2017 - 5:35pm
Are people's investment and buying decisions fueled by beneficence or are they simply selfish acts? This week's guest on Sea Change Radio, Joel Solomon, believes that the future of our economic well-being hinges upon our ability to recognize, develop, and reward inherent altruism. We discuss Solomon's new book, The Clean Money Revolution: Reinventing Power, Purpose, and Capitalism, including a view of current markets and Solomon's vision for 2050. Then, we dig into the Sea Change Radio archives and listen to an interview with an anonymous engineer who has worked in the Russian gold mining industry. He shares his experiences and talks about mining industry practices and sustainability efforts.