JetBlue Honors National Disability Awareness Month
JetBlue Honors National Disability Awareness Month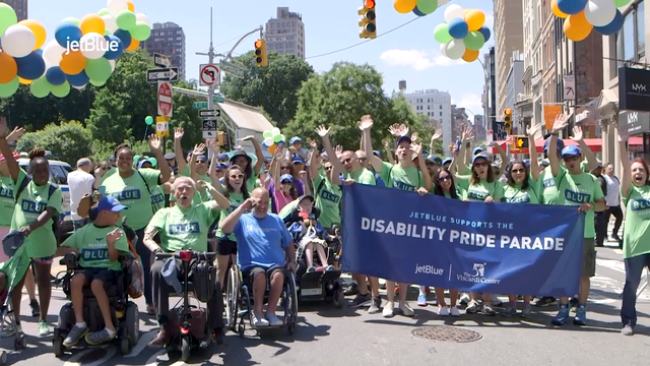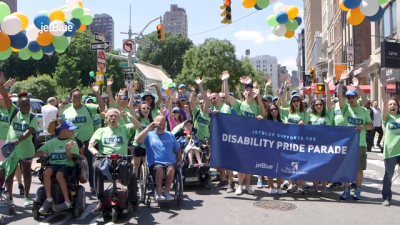 tweet me:
.@JetBlue honors National Disability Awareness Month http://bit.ly/2z2409P #NDEAM
Monday, October 9, 2017 - 8:35am
"The largest pool of untapped talent is the disability community. Our goal is to help move the needle forward for people with disabilities. Aligned with our mission of inspiring humanity, our business practices focus on innovative hiring and business mentoring programs. Gainful employment speaks directly to humanity, confidence and self-esteem. Through Reaching Blue Heights, we are providing access and opportunities for those with disabilities to pursue careers with JetBlue, and in other cases we help them gain the skills and resources needed to gain employment elsewhere."

Bob Bilak, Director Crew Relations and Compliance Programs, JetBlue
In observance of National Disability Employment Awareness Month  his October, JetBlue will continue to highlight its commitment to building and maintaining a culture of inclusion and diversity. JetBlue values diverse perspectives, and is committed to promoting disability awareness not only in October but all year through many nonprofit partnerships.
JetBlue's "Reaching Blue Heights" platform focuses on career exploration for students who have disabilities. In 2012, JetBlue launched the initiative as part of its commitment to hire, inspire and grow a talent pipeline for individuals with disabilities. The initiative began with a Disability Mentoring Day event and has since evolved into other pathways and employment programs including High Velocity Mentoring, career development workshops and an internship program.  
Under the umbrella of our Reaching Blue Heights initiative, JetBlue has worked very closely with the Henry Viscardi Center, a New York-based school and nonprofit that provides a lifespan of services for children and adults with disabilities.
View a recent special flight experience JetBlue hosted with the Viscardi Center in the video above.