INFOGRAPHIC | Bacardi Limited Highlights Sustainability Achievements of Good Spirited Initiative
INFOGRAPHIC | Bacardi Limited Highlights Sustainability Achievements of Good Spirited Initiative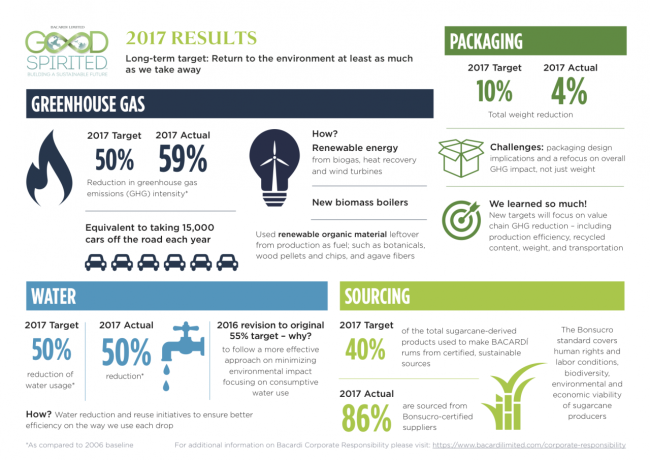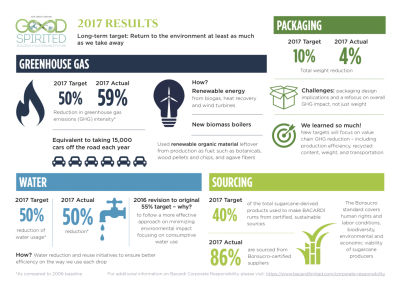 tweet me:
INFOGRAPHIC: @BacardiLimited's #GoodSpirited initiative has surpassed goals for #GHG reduction, #sustainable sourcing, and more http://bit.ly/2wI5F3Z
Friday, September 7, 2018 - 10:00am
Bacardi Limited announced the compilation of results of its environmental sustainability goals made in 2014 and expanded its "Good Spirited: Building a Sustainable Future" environmental initiative to now encompass the company's entire Corporate Responsibility (CR) platform.
Announced in early 2014, Good Spirited was an ambitious environmental sustainability initiative with specific goals in sourcing, packaging, and operations to be achieved by 2017 and 2022 -- under the vision to return to the environment at least as much as we take away. Significant reductions have been achieved in greenhouse gas emission (GHG) intensity (59%) and water usage (50%), as well as Zero Waste to Landfill targets. In addition, the original sourcing goal to obtain 40% of sustainably sourced sugarcane-derived products used to make BACARDĺ® rums were not only achieved but more than doubled.
To read more about Corporate Responsibility within Bacardi, visit the Corporate Responsibility section at https://www.bacardilimited.com/corporate-responsibility/.
About Bacardi Limited
Bacardi Limited, the largest privately held spirits company in the world, produces and markets internationally recognized spirits and wines. The Bacardi brand portfolio comprises more than 200 brands and labels, including BACARDÍ® rum, GREY GOOSE® vodka, DEWAR'S® Blended Scotch whisky, BOMBAY SAPPHIRE® gin, MARTINI® vermouth and sparkling wines, PATRÓN® tequila, CAZADORES® 100% blue agave tequila, and other leading and emerging brands including WILLIAM LAWSON'S® Scotch whisky, ST-GERMAIN® elderflower liqueur, and ERISTOFF® vodka.
Founded more than 156 years ago, in Santiago de Cuba on February 4, 1862, family-owned Bacardi currently employs approximately 5,500, operates more than 20 production facilities, including bottling, distilling and manufacturing sites in 11 countries, and sells its brands in more than 170 countries. Bacardi Limited refers to the Bacardi group of companies, including Bacardi International Limited. Visit www.bacardilimited.com or follow @BacardiLimited.
More From Bacardi Limited
Tuesday, December 3, 2019 - 4:00pm
Monday, November 25, 2019 - 2:30pm
Friday, November 22, 2019 - 2:30pm