INFOGRAPHIC | 10 Critical Ways CSR Impacts Your Entire Brand
INFOGRAPHIC | 10 Critical Ways CSR Impacts Your Entire Brand
Your CSR efforts are more essential than ever for recruiting and retaining top talent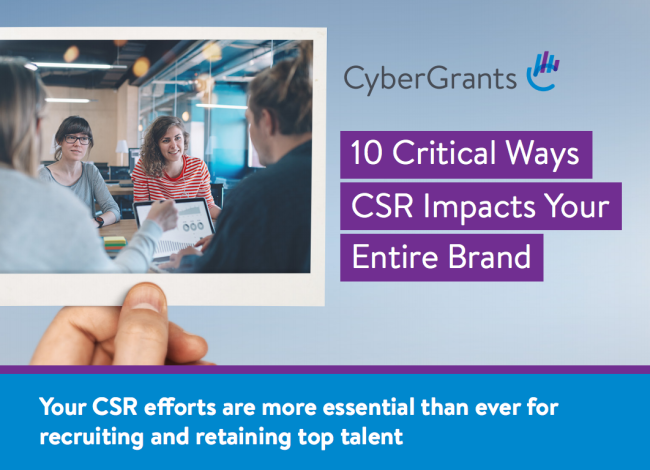 View the full infographic here.
" href="https://www.3blmedia.com/sites/www.3blmedia.com/files/images/CyberGrantsInfographic10.18.19.png" rel="slick-gallery-node-227311">
tweet me:
INFOGRAPHIC | Your #CSR efforts are more essential than ever for #recruiting and retaining top #talent http://bit.ly/2yKS3pP @CyberGrants
Tuesday, October 23, 2018 - 8:15am
When You Make the World Better, You Make Your Business Better
Making the world a better place goes way beyond "feel good." New research definitively shows a direct correlation between your social activities and how your brand is perceived by your employees and your consumers. And significantly, how those activities directly influence buying decisions.
The findings are compelling. Take a look at our infographic to see how your CSR efforts affect your brand, help you recruit and retain talent, influence consumer preferences, and ultimately boost your market value. In today's world, effective CSR programs aren't optional — they're essential.
View our "10 Critical Ways CSR Impacts Your Entire Brand" infographic here.
More From CyberGrants
Monday, January 27, 2020 - 10:15am
Thursday, January 23, 2020 - 6:15pm
Thursday, January 9, 2020 - 12:10pm