How Businesses Can Unleash the Power of Long-term Hurricane Harvey and Irma Support Through Employee Giving and Matching Gifts
How Businesses Can Unleash the Power of Long-term Hurricane Harvey and Irma Support Through Employee Giving and Matching Gifts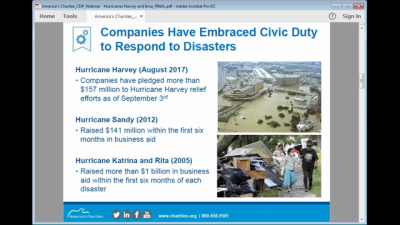 tweet me:
.@AmerCharities: Unleash the power of long-term #HurricaneHarvey #Irma support via #EmployeeGiving #MatchingGifts http://impact.ac/2wj9qLe
Thursday, September 14, 2017 - 5:55pm
Watch Now! This 20-minute webinar recording features Jim Starr, President and CEO of America's Charities, and Bob Ottenhoff, President and CEO of the Center for Disaster Philanthropy, and explains:
Why supporting long-term disaster recovery is so important and

How businesses have a unique opportunity to 

step up their support through the power of employee giving, matching gifts. 
More From America's Charities
Monday, April 19, 2021 - 11:55am
Monday, April 19, 2021 - 10:15am
Tuesday, April 13, 2021 - 12:30pm