High School Students Use Star Banks Adventure® App to "Game Their Way to Success"
High School Students Use Star Banks Adventure® App to "Game Their Way to Success"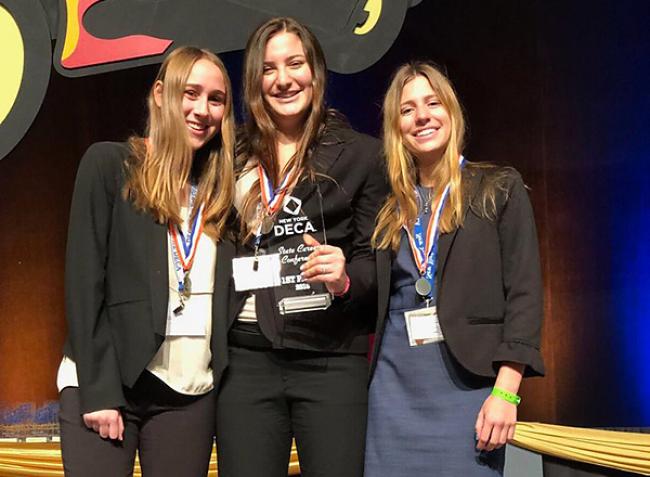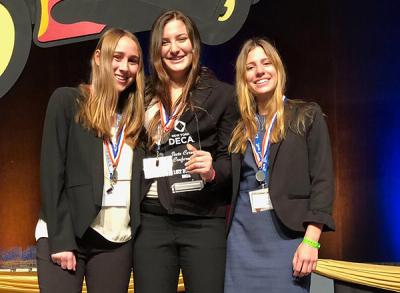 tweet me:
High School students use @TRowePrice Star Banks Adventure app to "game their way to success" #TRPKids http://bit.ly/2JuC0nj
Wednesday, June 6, 2018 - 9:00am
"Dear Ms. Christoff," the email began, "My name is Olivia Perini, and I am a 9th grade student at Harrison High School in New York. For our high school DECA club project, my two partners and I were assigned the task of coming up with a financial literacy promotion. We chose to use the T. Rowe Price Star Banks Adventure app to promote financial literacy in the school."
It was not the kind of message Renee Christoff, head of Global Associate Engagement + Corporate Responsibility, gets every day.
"It's not unusual for us to hear from educators about our financial literacy program," she says. "To hear from students that they found Star Banks Adventure® both fun and educational—that was special."
Olivia and her teammates, Alex Glaser and Maria DiRusso, were working on a project for their high school DECA club. DECA, which stands for Distributive Education Clubs of America, works to prepare emerging leaders and entrepreneurs in marketing, finance, hospitality, and management in high schools and colleges around the globe. Its yearly competitions provide a focus for club activities.
As their entry in the financial literacy promotion category, the students wrote a paper they titled "Gaming Our Way to Success" describing how they used the Star Banks Adventure app to help their fellow students learn financial concepts.
The project won first place in its category at the New York State DECA competition, which meant they were on their way to the DECA International Career Development Conference in Atlanta. They approached Renee to see if T. Rowe Price had data they could add to their presentation and to ask for a sponsorship to allow them to travel to the competition, which the firm was happy to provide.
A fun way to learn
The students chose Star Banks after looking at several financial literacy apps "because it was a fun game, and we thought it was educational. We thought that kids in high school would be drawn to using a game rather than something meant for adults," says Olivia.
The free app and online experience was created by T. Rowe Price's Corporate Responsibility team and senior financial planners to teach kids financial concepts. The award-winning game has been downloaded more than 423,000 times since it launched in 2015.
The students' discovery of the app is a great example of the firm's financial education program in action, says Dave Malone, CSR program manager. "We're happy to have been part of their journey."
The students asked their business teacher, Deidre McQuillen, to allow other students in her personal financial literacy classes to download and play the app and then used their responses as the basis for their paper. Deidre says she's continued to use the app with her other students. "I like to give it before and after tests," she says. "It's a good way to review concepts and reinforce what we're teaching in a fun way." The school's DECA club has also adopted the app and encourages its members to play.
Money Confident Kids
Olivia, Alex, and Maria are three of the many students who have benefited over the years from T. Rowe Price's financial education program, Money Confident Kids. Last year, the program reached 4.3 million people, including parents and educators.
The program focuses on starting young, having money conversations, and improving educator confidence. And there is research to support the community's need for this. The firm's Parents, Kids & Money Survey has consistently found that parents are reluctant to have money conversations and that financial education in schools is spotty at best. It has also found that kids' positive money habits are associated with money conversations, experiences, and classroom education.
In addition to surveying parents, this year's survey—the firm's tenth—interviewed 18–24 year olds for the first time, a cohort who would have been in the age range of kids studied when the survey was first conducted.
"We noticed that financial education is often happening too late with a focus too narrow," says Stuart Ritter, a senior financial planner. "But some financial education is still better than none. Even though only 30% of young adults who had financial education specifically learned about retirement savings, the entire cohort is much more likely to have retirement savings and say it's a priority—that's powerful."
Dave Malone adds, "Our hope is that our Money Confident Kids program can help fill some of the gaps in financial education, both at home and in schools."
Keep spreading the word
While this year's DECA competition is over, Olivia, Alex, and Maria are already thinking about what they might want to focus on for next year's project.
"We want to continue to spread the word about financial literacy," says Maria. "Money management is a bigger part of people's lives than they realize."
DECA club advisor Joe Santos says that the experience—from writing and presenting the report to participating in their first "real world" conference call for this article—has been a real learning experience.
"These are the types of invaluable experiences that I love to see my students take part in," he says. "These types of experiences will help them throughout the rest of their lives."
Star Banks Adventure is a registered trademark of T. Rowe Price Group, Inc.
More From T. Rowe Price
Friday, May 22, 2020 - 12:40pm
Monday, May 11, 2020 - 8:15am
Thursday, April 9, 2020 - 1:30pm