HPD Collaborative to Host Material Health Open Innovation Symposium: The Art & Science of Material Health.
HPD Collaborative to Host Material Health Open Innovation Symposium: The Art & Science of Material Health.
Up to 5 GBCI Continuing Education Credit Hours Available for LEED and WELL.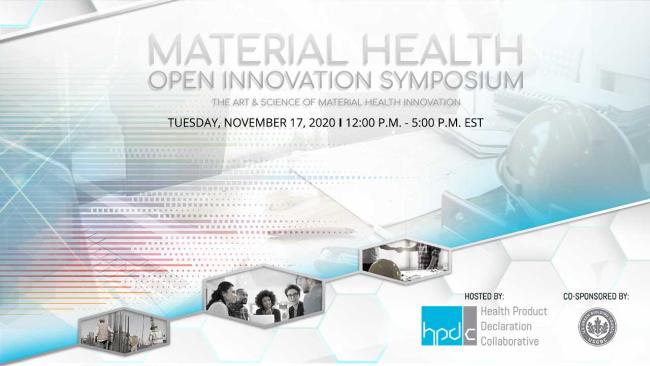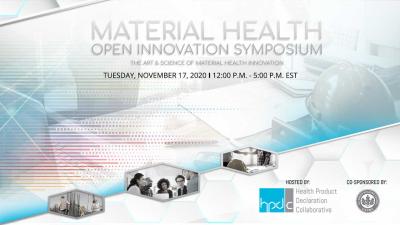 tweet me:
HPDC hosts the Material Health Open Innovation Symposium, Tues, Nov 17 from 12-5 pm EST. Five GBCI Continuing Education credit hours are available for LEED and WELL. Learn about credits: https://bit.ly/2I83iBs. Register for the free virtual Symposium: https://bit.ly/366n48u.
Thursday, November 12, 2020 - 9:00am
WAKEFIELD, Mass., November 12, 2020 /3BL Media/ – HPDC will host its first Material Health Open Innovation Symposium on Tuesday, November 17, 2020 from noon to 5 pm EST. Dedicated solely to the rapidly growing field of Material Health Practice, this Virtual Zoom event is free for everyone. 
Symposium participants will learn about the latest innovations taking place in the field of Transparent Material Health from researchers, educators, manufacturers, architects, designers and ecosystem partners. Experts on the leading edge of innovation will share how the building industry is rapidly transforming to the use of healthier building products. The Symposium offers up to 5 GBCI Continuing Education (CE) credit hours for LEED and WELL, based on Sessions attended. Find more information on the Symposium CE hours here.
"We've come a long way since the initial idea for the HPD report was born and several other important initiatives launched in 2010," said Wendy Vittori, Executive Director of HPDC. "The Material Health Open Innovation Symposium brings together leaders in Material Health and Transparency in the built environment, and will clearly demonstrate how much has already been accomplished in this rapidly emerging field of practice.  Transparent material health reports have now been produced by over 1,000 manufacturers representing over 20,000 building products."
The U.S. Green Building Council has joined HPD Collaborative as a co-sponsor and will present on LEED v4.1, the future of LEED and LEED Positive, a long-term regenerative and restorative design vision for LEED.
Wes Sullens, LEED Fellow, and Director in the LEED department of USGBC, said, "The Material Health Open Innovation Symposium marks a major milestone for human health. We've come so far since the early days of LEED, the leading program for green buildings and communities worldwide, to earn the Material Ingredients credit. Thanks to the collaborative work of ecosystem partners like HPDC, safe, healthy, and innovative building products and materials are quickly becoming commonplace.  The LEED Material Ingredients credit has become one of the most substituted credits in LEED v4.1, representing nearly a quarter billion square feet of project space. Truly, the USGBC community of stakeholders desire materials transparency and embrace innovative solutions for healthier materials."
The schedule for the Material Health Open Innovation Symposium is as follows:
Session 1 – User-led, Collaborative, Open Innovation Breakthroughs in Material Health Practice
12:00 to 1:00 pm
Speakers: Prof. John Friar, Northeastern University,  Prof. Rolf Halden, Arizona State University, Rand Ekman, Chief Sustainability Officer, HKS.
Session 2 – Leading Edge of Practice Case Studies: Manufacturer Product Innovation
1:00 to 2:00 pm
Speakers: Melea Wade, Shaw Industries Group and Evelyn Ritter, Toxnot PBC present "Using an Internal Materials Library supports Transparency, Proprietary Protections and Innovation;" Luke Zhou, Humanscale Corporation presents "Product Innovation for Green Chemistry – Phenolic Board Alternative Case Study;" William Paddock, Tile Council of North America (TCNA) and WAP Sustainability presents "TCNA & the Largest Crowdfunded GreenScreen Assessment Project To-Date."
Session 3 – Leading Edge of Practice Case Studies: Project Design Team Innovation
2:00 to 3:00 pm
Speakers: Susan Kaplan, HLW presents "Systematic Approach for Healthier Material Selection;" Lona Rerick, ZGF Architects, Melissa Wackerle, AIA and Annie Bevan, Superior Essex/Living Product 50 present "Closing the Transparency Loop (CTL);" Jeffery Frost, Brightworks Sustainability present "Keeping Score: Scoring Healthy Materials."
Session 4 – Making Material Health Practice the Norm by 2025: The View From Material Health Programs
3:00 to 4:30 pm followed by Roundtable Discussion 4:30 to 5:00 pm
Speakers: Peter Templeton, CEO, Cradle-to-Cradle Product Innovation Institute (C2CPII); Shari Franjevic, GreenScreen® Program Manager, Clean Production Action (CPA); Teresa McGrath, Chief Research Officer, Healthy Building Network (HBN); Tristan Roberts, Technical and Education Director HPD Collaborative (HPDC); Shawn Hesse, Director of Business Development, International Living Future Institute (ILFI); Wes Sullens, Director, LEED U.S. Green Building Council (USGBC).
Nadav Malin, President of BuildingGreen, will emcee the Material Health Open Innovation Symposium and moderate the closing Roundtable discussion. Mr. Malin is the building industry's go-to resource for thoughtful perspective on the materials and design solutions that define sustainable building practice. As president of BuildingGreen, he oversees the company's industry-leading information and community-building websites BuildingGreen.com and LEEDuser.
Register for the free Material Health Open Innovation Symposium here.
In celebration of 10 years of Material Health advancement, HPDC is offering a 25% discount to new members through November 17, 2020. Organizations, practitioners, students and community members  are encouraged to take advantage of this membership discount. Click here to join, and use promo code HPDC25 at checkout to receive a 25% discount for any level of HPDC membership. 
For further information about Material Health Open Innovation Symposium, click on this link to visit the HPD Collaborative website.
ABOUT HPDC
HPDC is a not-for-profit, member association with over 300 organizational members, representing the full spectrum of the building industry: architects, designers, building owners, manufacturers, consultants, tool developers, and others who all share a common purpose to improve the transparency of information and the material health of the built environment. The HPD Open Standard has become widely adopted as the industry standard for reporting on building product contents and associated health information, since its launch in 2012, with over 7,000 HPD reports publicly available.  HPDC members champion the continuous improvement of the building industry's performance through transparency, openness and innovation in the practices of reporting, disclosure, specification and selection of building products.  For more information, visit hpd-collaborative.org.
###
More From Health Product Declaration Collaborative