Forests as a Natural Climate Solution
Forests as a Natural Climate Solution
Stream a Replay of the Climate Week event with International Paper and The Nature Conservancy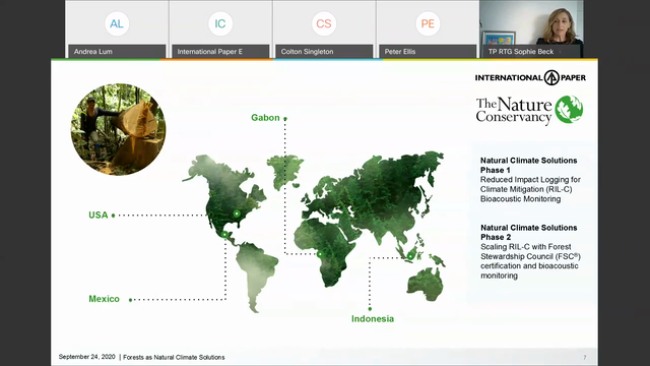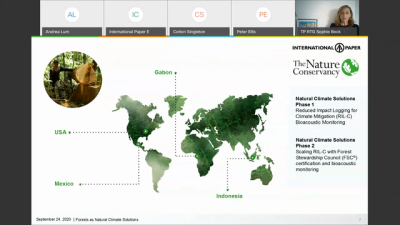 tweet me:
Forests as a Natural Climate Solution: Stream a replay of the #ClimateWeek event with @IntlPaperCo and The Nature Conservancy @nature_org: https://bit.ly/36j4VWx
Thursday, October 1, 2020 - 1:30pm
How we manage forests is a critical, yet often overlooked, solution in the fight against climate change. Improvements to land stewardship – Natural Climate Solutions – could cost-effectively avoid 11 gigatons of CO2 emissions per year, or one third of the mitigation needed to meet global climate commitments.
In a special Climate Week NYC event on September 24, 2020, International Paper together with The Nature Conservancy hosted "Forests as a Natural Climate Solution" to discuss the importance of forestry-based natural climate solutions and to share specific examples of collaborations between governments, NGOs and the private sector in Gabon, Indonesia, Mexico and the Central Appalachians of the United States.
"The drumbeat of Climate Week has really been about these kinds of collaborations between the private sector and groups like The Nature Conservancy and others to drive forward impact on the ground," explained Sophie Beckham, chief sustainability officer, International Paper. "That is why this isn't just a conservation strategy for International Paper; it's really part of our business strategy, and we're looking to that kind of collaboration to move the needle together with others."
Click here to watch the full replay of the event featuring Sophie Beckham, chief sustainability officer, International Paper and Peter Ellis, natural climate solutions science team lead, The Nature Conservancy