Five Ways to Network at BSR20, Plus ACLU and Unilever Join the Lineup
Five Ways to Network at BSR20, Plus ACLU and Unilever Join the Lineup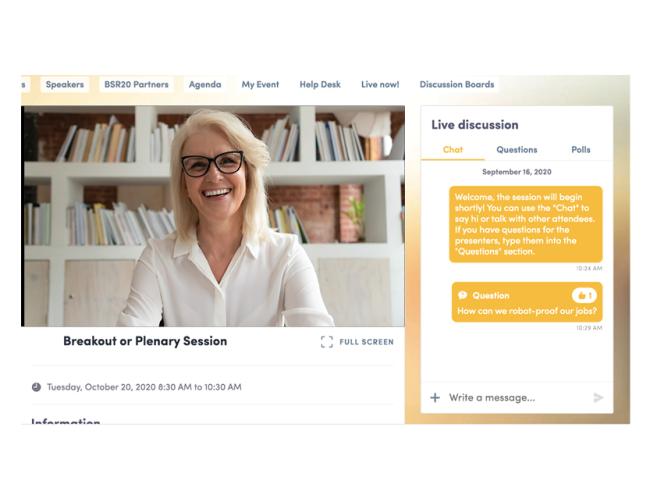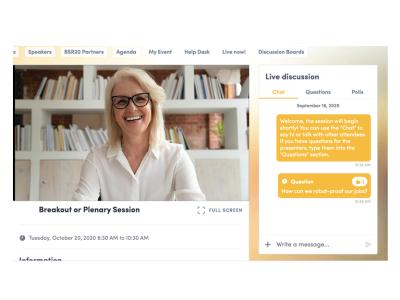 tweet me:
Join @BSRnews at #BSR20 and make meaningful connections with its community of global leaders. Plus, hear from @ACLU's @AnthonyACLU and @Unilever's @RebeccaMarmot on some of today's most discussed topics: https://bit.ly/33Uu9aP
Wednesday, September 23, 2020 - 9:30am
Five Ways to Network at BSR20, Plus ACLU and Unilever Join the Lineup
The networking opportunities at BSR Conference are unparalleled—we hear this every year, and BSR20 won't be any different. Our top five ways to connect at BSR20 will help you make meaningful connections with our community of global leaders.
Join the Conversation in Real-Time: Use the chat bar during live sessions to submit questions and discuss the content with other participants.
Be Your Authentic Self: Don't let virtual be boring. Use our online photo booth for a fun and fast way to update your event profile. 
Meet One-on-One: Arrange video calls or chats with other participants by setting your own personal availability.
Let AI Help Make Smart Connections: Matchmaking algorithms will use your event profile to recommend other participants or sessions you might find of interest.
Informal Gatherings: Join networking breaks featuring activities like speed networking with ice-breakers and virtual reality conversations.  
Speaker Spotlight
Anthony Romero, Executive Director, American Civil Liberties Union
Under Anthony Romero's direction, the ACLU has pursued aggressive litigation and advocacy challenging the greatest injustices of our time, including: the freedom to marry for same-sex couples; the reduction of prisons and jail populations; and racial disparities within the criminal justice system. In addition, 400 legal actions have been filed against the Trump administration, and the ACLU has won landmark decisions at the Supreme Court, such as anti-discrimination protections to transgender employees.
Rebecca Marmot, Chief Sustainability Officer, Unilever
Join Rebecca Marmot for an intimate conversation in The Evolving Role of the CSO session. As Chief Sustainability Officer at Unilever, Rebecca is responsible for driving, through advocacy and partnerships, transformational change on priority areas of Unilever's Sustainable Living Plan: climate change and eliminating deforestation; sustainable agriculture and smallholder farmers; water, sanitation and hygiene; and opportunities for women.
More From BSR
Wednesday, November 18, 2020 - 11:50am
Wednesday, November 4, 2020 - 2:00pm
Wednesday, October 28, 2020 - 12:30pm