Five Digital Trends Shaping the Future of Mining
Five Digital Trends Shaping the Future of Mining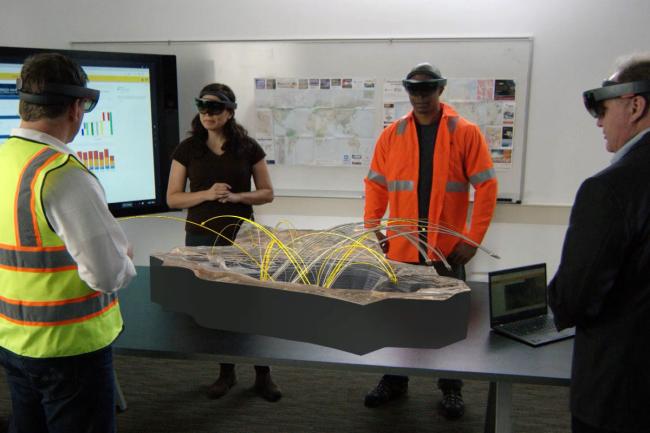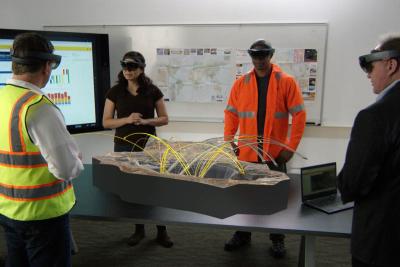 tweet me:
With Goldcorp's #DisruptMining event coming up in March, they explain the "Five Digital Trends Shaping the Future of Mining". Learn more in Goldcorp's Above Ground blog: https://blog.goldcorp.com/2018/01/08/five-digital-trends-shaping-the-future-of-mining/
Wednesday, January 31, 2018 - 12:50pm
Goldcorp's #DisruptMining event in March will generate new ideas for innovative technologies that could fundamentally transform the mining sector. With asset productivity as a major issue facing the mining industry today, companies are looking to digital technology to reduce costs, drive productivity and enhance financial performance.
Utilizing innovative technological developments to improve efficiency is a constant driver for Goldcorp, however we are also focused on two other significant factors as we look to innovation to drive productivity. We aim to advance the success of our sustainability efforts by improving our environmental performance through the reduction of water and energy consumption, thereby reducing greenhouse gas emissions and long-term sustaining costs and helping us meet our stakeholders' expectations and, increase automation, particularly in the riskiest parts of the mine, making our mines safer for our employees.
Here, we dig into research by the World Economic Forum, McKinsey and Deloitte on how digital innovation could provide some breakthrough solutions, and summarize five digital trends helping to shape the future of mining.
Data Integration and Predictive Analytics: The Internet of Things is the key driver enabling equipment, fleets and people outfitted with sensors, software and wireless tech to be digitally connected so data can be remotely monitored, stored and shared. Real-time monitoring improves traceability and visibility, ensuring maximum efficiency, improved safety, decreased variability and better identification of performance issues. Diagnostic data on the state and performance of equipment can be transmitted remotely with analytics anticipating failures before they occur, along with recommended maintenance schedules or corrective action to reduce downtime. Valuable information is no longer confined to silos, but can be shared across the organization via cloud connectivity or networks, supporting interdepartmental collaboration. Continued innovations in data analytics and advances in GPS, mobile broadband, sensor technology and data storage through cloud computing will continue to rapidly improve productivity of the connected mine.
Artificial intelligence (AI) and Machine Learning: Machine learning algorithms are considered the next big step in the digital transformation of mining. AI is an area of computer science that creates intelligent machines that learn and react like humans. Incorporating information from satellite imagery, geophysical maps, previous core drill data, soil samples and survey data, smart computers can help companies gain greater metallurgical precision by identifying promising drilling targets. Predictive modelling of ore-bodies and blast hole drill data can lead to more precise drilling targets, optimal blast and drill patterns and improved ore fragmentation. AI has been used extensively in the oil and gas industry and holds a lot of promise for the mining sector.
Augmented Reality (AR) and Virtual Reality (VR): AR and VR technology is rapidly becoming indispensable tools for mine planning, training and safety. AR overlays interactive 3D visual images on top of the physical world, while VR replaces the real world with a simulated one. VR can create authentic scenarios immersing users in realistic mining conditions to support training in operations, health and safety. The technology can also be used to slow down blast sequences to a fraction of its real-time speed, allowing engineers to improve both blast and drill rates by simulating different patterns.
Cybersecurity: As more data moves into the cloud and digital innovation becomes the norm, mining companies will be more exposed to online threats. Blockchain, which keeps a record of every transaction and safely encrypts that information without third-party intervention, will continue to play a growing role in helping reduce data exposure to hackers.
Mine Automation: The holy grail of digitalization is the fully automated mine. The move to automate the mining process has been underway for years. Tele-remote operations are well established in the industry. Fully autonomous equipment is now used for haulage, drilling and other processes, with automated blasting and shovelling on the horizon. Automation offers the potential to reduce variability, cut operating costs, increase efficiency and remove workers from hazardous environments.
The industry still has a long way to go until full-scale automation becomes a reality. However, #DisruptMining is an excellent platform to surface new ideas that will bridge the gap between mining and technology to significantly contribute to Goldcorp's digital transformation goals and for the health and safety of our workers.
More From
Friday, April 5, 2019 - 6:45am
Thursday, April 4, 2019 - 6:30am
Wednesday, April 3, 2019 - 6:00am