First Hand: Reflections on Lake Erie
First Hand: Reflections on Lake Erie
by Foundation President Jim King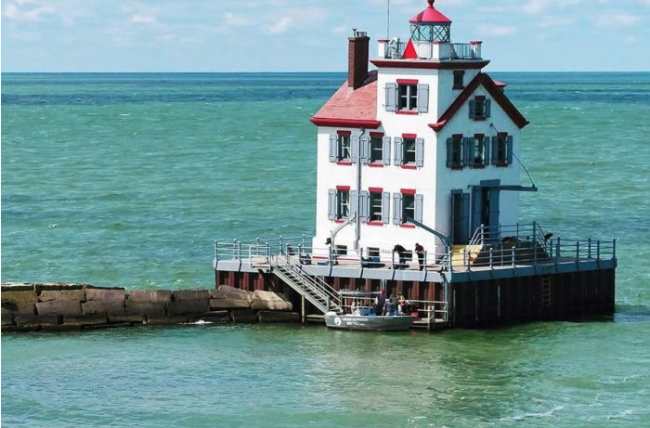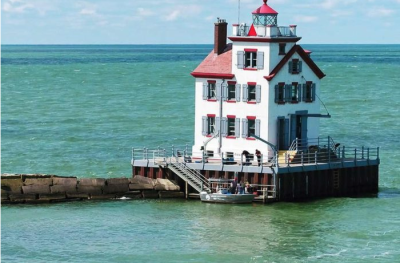 tweet me:
READ: The @Scotts_MGro Foundation president Jim King's #blog discussing the harmful #algalbloom #freshwater crisis on his beloved #LakeErie and how it can be healed http://bit.ly/2GbhOC5 #WaterPositive
Wednesday, April 11, 2018 - 8:35am
The shore of Lake Erie was just a five-minute drive from the house where I grew up in Lorain, Ohio. But making that drive often took me to an entirely different world.
Lake Erie was our summertime escape. It's where I swam with my friends, fished with my father and walked on the beach with the 17-year-old girl who later became my wife. When I moved away from home, I would return to the lake on nearly every visit, sometimes just sitting in the car and remembering earlier days. Sometimes I'd walk the beach and absorb the most beautiful sunsets I had ever seen. I visited the lake the morning after my mother died. I sat on a park bench and listened to the waves crash as I wrote her eulogy.
To say Lake Erie is a part of me is a gross understatement. While the good memories I have are forever burned into my brain, so are the bad ones. In fact, my earliest memories of the lake are of dead fish littering the shore, creating a stench so powerful that we turned around and went home.
As time progressed, the lake healed. It evolved to the place that helped create the memories that still make me smile. It was beautiful. I thought it always would be.
So I was mortified three years ago when I saw images of toxic algal blooms fouling the waters off the shore of Toledo. The people there lost their drinking water for days. The bloom traveled east, nearly halfway across the lake, affecting the waters off the shore of Lorain. There was no way to stop it.
When I learned in 2016 of the George Barley Water Prize, I knew that our company, and our Foundation, should be a part of the effort. The prize centers around a global competition that seeks a cost-effective solution to remove phosphorus from freshwater. Phosphorus is the primary source of toxic algae and it has become an issue affecting more than 15,000 water bodies worldwide.
The folks at the Everglades Foundation, which is funding the prize, told me the Lake Erie algal bloom off the shore of Toledo was their inspiration to find a permanent solution to this global crisis.
Over the past decade, ScottsMiracle-Gro voluntarily removed phosphorus from our fertilizer products, redesigned our spreaders and increased the amount of slow release nitrogen in our products. All of those steps were taken to help protect our waterways. However, knowing that homeowners use only about 3 percent of the fertilizer applied in the United States every year, we knew our actions were unlikely to make a big difference. But we also knew it was the right thing to do.
Becoming the presenting sponsor of the Barley Prize was also the right thing to do. Our goal is to create awareness of this crisis, visibility for the people trying to solve it, and financial support for the organizations leading the charge.
To bring more visibility to the problem, we partnered with world-renowned environmental photographer Andy Mann. After many discussions with Andy, he suggested the creation of several short documentaries that would tell the stories of some of America's most challenged water bodies.
I suggested that he include Lake Erie in his storytelling. And I asked Andy to meet me in Lorain.
We spent a day walking the same parks, piers and boardwalks that I visited in my youth. I told him all of the anecdotes I've shared in this note, as well as others.
I cherish my memories of Lake Erie and I wish more Americans appreciated its beauty and importance. I'm proud to play a small role in Andy Mann's work and to bring more awareness to this critical issue. Mostly, though, I hope that this work somehow plays a role in protecting the place that I still hold so dear.
View our full docuseries and learn more about water quality issues and solutions here. 
Follow Andy Mann on Instagram.
About The Scotts Miracle-Gro Foundation
The Scotts Miracle-Gro Foundation is a 501(c)(3) non-profit organization with a mission to inspire, connect, and cultivate communities of purpose in the areas of environmental improvement, youth empowerment, and community gardens and greenspaces. The Foundation carries out its mission by funding qualifying charitable entities that support its core initiatives in the form of grants, endowments, and multi-year capital gifts. The Foundation is deeply rooted in preserving our planet, empowering the next generation, and helping create healthier communities. For more information, visit www.scottsmiraclegrofoundation.org.
More From ScottsMiracle-Gro
Thursday, January 21, 2021 - 9:00am
Wednesday, January 20, 2021 - 9:00am