First-Ever BESTCon Highlights Booz Allen's Innovations in Engineering and Science
First-Ever BESTCon Highlights Booz Allen's Innovations in Engineering and Science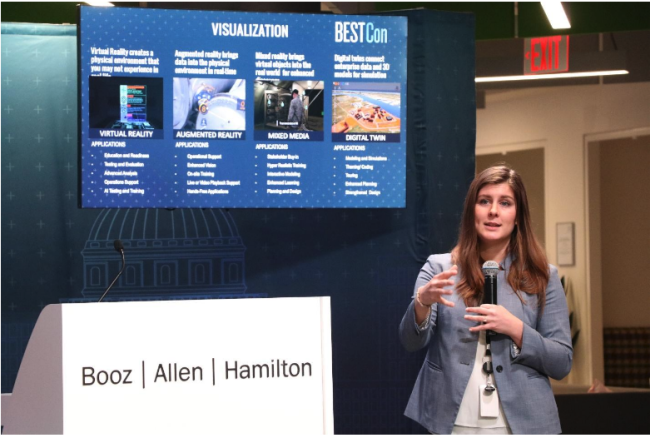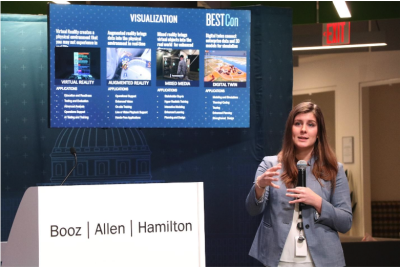 tweet me:
Booz Allen's #engineers and applied scientists are changing the world and delivering results. At BESTCon, they discussed how, and what's next. http://bit.ly/34xi49R
Thursday, December 19, 2019 - 7:00am
Around the world, Booz Allen's engineers and applied scientists are doing great things: using telematics to make cars safer, modernizing networks and satellites for America's defense, modernizing healthcare, helping organizations operate more efficiently and sustainably, and protecting infrastructure against natural and manmade threats, to name just a few examples.
On December 13, 2019, Booz Allen brought these professionals together online and in person at its DC Innovation Center for its first-ever Booz Allen Engineering & Science Technical Conference ("BESTCon"), a full day internal engineering and science conference. 
A comprehensive day of collaborative education
"BESTCon is a great way for Booz Allen's engineers and applied scientists to collaborate with colleagues, advance their understanding of our diverse capabilities, and bring new engineering and science capabilities to our clients," said Chris Ellis, Senior Vice President and a leader in the Booz Allen's defense and military intelligence business.
16 presentations were offered to over 300 attendees (both in-person at 5 offices across the United States and online). Participants also had the opportunity to earn Continuing Education Units (CEUs) to maintain existing certifications.  
Connecting and cultivating professional communities 
BESTCon is one of Booz Allen's many initiatives to unite talent across markets and geographies. In February, the firm hosted BoozCon, an internal cyber security conference developed to bring engineers and scientists together to network and share ideas for innovation and to enhance client service.
Brigitte McAuliff spoke at BESTCon on the power of emerging technologies, namely Advanced Infrastructure Solutions (AIM). "Events like BESTCon provide a key opportunity to share knowledge between teams that may otherwise not get to interact," said McAuliff. "These conferences enable the firm's focus to connect technical teams to partner and create synergies. Our capability, AIM, grows and evolves as we continue to connect with all of the remarkable teams and solutions being developed across Booz Allen."
Learn more about engineering and science capabilities at Booz Allen.