FCA Community: Creating a Strong Flow of 'Stream Leaders' in Michigan
FCA Community: Creating a Strong Flow of 'Stream Leaders' in Michigan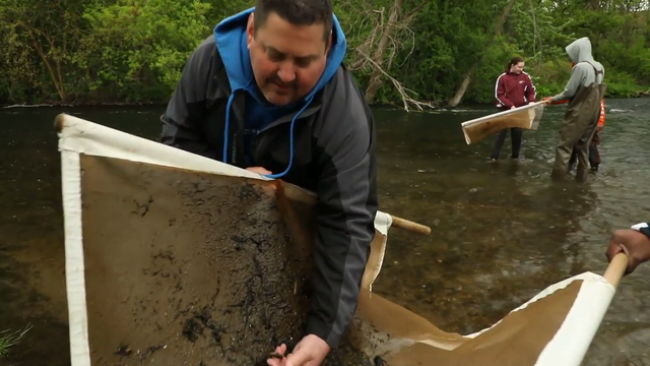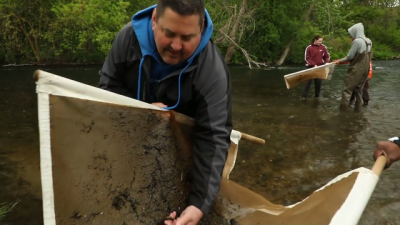 tweet me:
Every year, he gets knee deep in a #Michigan stream to measure its health and to teach students the value of water quality. Learn more about Dave and his conservation efforts in this #FCACommunity story: http://bit.ly/2Xyl8TS
Wednesday, June 26, 2019 - 4:15pm
Decked out in waders with a mission of finding macroinvertebrates and minnows in the Clinton River, FCA Environment, Health and Safety (EHS) Lead Dave Jump gets knee deep with Bowers Academy high school students to create the next generation of "stream leaders."
"We have a responsibility to the environment and to protect Mother Earth, " says Dave. "I've been working on this stream for the past 10 years, helping guide students as they conduct biological, chemical and physical assessments of the river. It's in moments like this where I know I'm doing my little bit to build tomorrow's environmentalists." 
The annual river monitoring is part of the Clinton River Watershed Council's Stream Leaders program, which aims to raise young people's awareness of the importance of water quality and to help cultivate a connection to a Great Lakes stewardship identity. The Clinton River flows for 83 miles in southeastern Michigan.
Dave's stewardship of the environment goes beyond the streams. 
He has taught students how to build insect houses, plant butterfly waystations and install bat houses to protect declining pollinator populations. He has collected reusable shoes and donated them to Soles4Soles and coordinated electronic recycling days. Dave has challenged students to design and build model homes that use chemical reactions of plants and other autotrophs, as well as pollinators, to help reduce the effects of human activity on the environment.
It's these commitments to preserving the environment together with the local community that has helped the Company earn the highest recognition, Certified Gold, from the Wildlife Habitat Council for overall excellence in wildlife habitat and corporate conservation.
To learn more about the Clinton River Watershed Council, visit https://www.crwc.org/.
About FCA Community Stories:
FCA Community explores the efforts of FCA US employees who see a need beyond the walls of their work sites and devote energy outside their daily job to be a source of comfort and a force for change.
More From Stellantis
Tuesday, May 11, 2021 - 11:00am
Monday, May 3, 2021 - 10:15am
Thursday, April 29, 2021 - 10:35am