Evaluation and Impact Measurement in the Social Economy
Evaluation and Impact Measurement in the Social Economy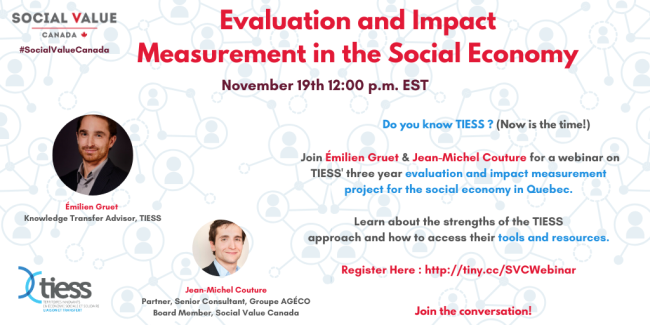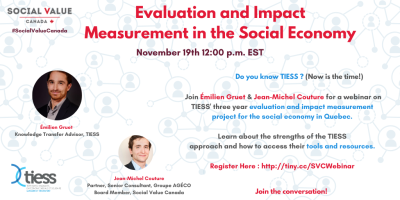 tweet me:
Join Emilien Gruet & Jean-Michel Couture for a #webinar on @tiessolt three year evaluation and impact measurement project for the social economy in Quebec #socialvalue #impact. http://bit.ly/33Q7ECJ
Friday, November 15, 2019 - 6:50pm
This webinar will give an overview of a three year project conducted by TIESS and its partners on evaluation and impact measurement for the social economy (2016-2019). It will focus on the Quebec context, the approach chosen by TIESS to carry out this work, its achivements (like the Montreal Declaration) and the tools that are avaialble to all in French and will soon be adapted and translated for the rest of Canada.
To learn more and to register, visit: https://www.eventbrite.ca/e/evaluation-and-measurement-of-impact-in-the-social-economy-tickets-79170229287
-30-
More From SiMPACT Strategy Group
Thursday, March 26, 2020 - 2:20pm
Wednesday, March 11, 2020 - 4:00pm
Wednesday, January 29, 2020 - 5:00pm