Envisioning a Sustainable Future by Solving Energy Paradox
Envisioning a Sustainable Future by Solving Energy Paradox
Schneider Electric shows its progress by driving energy efficiency to more than 70% of world's energy demand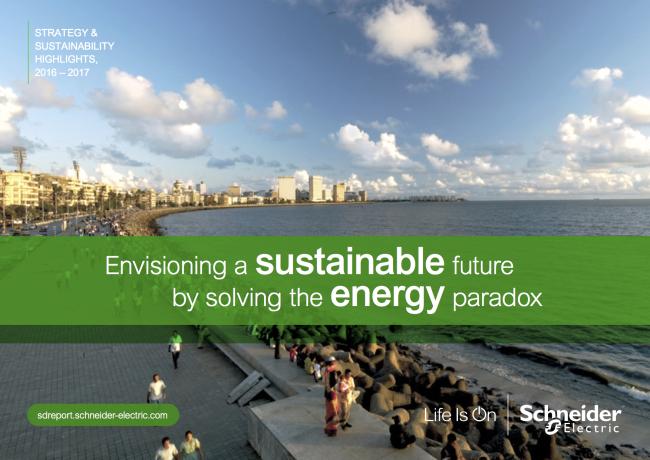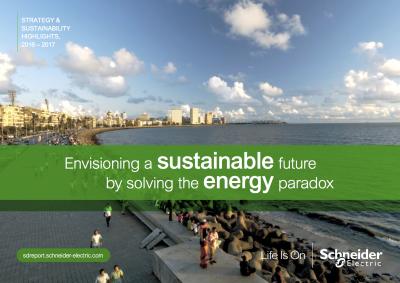 tweet me:
.@Schneider_elec drives #EnergyEfficiency to more than 70% of world's energy demand http://bit.ly/2t4S7kf #Sustainability #LifeIsOn
Thursday, July 20, 2017 - 9:15am
PARIS, July 20, 2017 /3BL Media/ -- Schneider Electric, the global specialist in energy management and automation, announces the launching of Strategy & Sustainability Highlights that shows the progress of the company towards an answer to the world energy paradox. According to International Energy Agency, by 2050 the energy consumption will increase by 50%, whilst 2,3 billion people with poor or no access to energy must be attended by 2030 to accomplish one of 17 Sustainable Developments Goals settled by United Nations, that aims to universalize the access to affordable and sustainable energy worldwide. Accomplishing both objectives must be aligned with another planetary goal to limit global warming up to 2 °C.
Available online, Strategy & Sustainability Highlights , titled "Envisioning a Sustainable Future by solving energy paradox" tells how the company is delivering access to clean, modern and affordable energy to more than 20 million households around the world, at the same time as its main solution, called EcoStruxure™ is able to drive energy efficiency in markets that combined, consume 70% of the world's energy: commercial and critical buildings, residential, industry, infrastructure and data centers.
As a result of an extensive dialogue with stakeholders in a global scale, such feedback is integrated throughout this report, as well as through Schneider Electric's annual Registration Document, new progress plans throughout the company program, and the Planet & Society barometer, that is Schneider's internal sustainable development scorecard. It highlights three-year commitments to specific objectives to keep our stakeholders informed of the company's progress each quarter. Moreover, the company also features initiatives that generates social impact, across the world such as:
120,000 underprivileged people trained in energy management
212 new social entrepreneurs in 6 countries, including a pilot project to increase women participation in the field of access to energy
1,065 voluntary missions performed by employees in more than 70 countries
€5,7 million invested by Schneider Electric Energy Access Fund to support innovative energy solutions and social businesses
€54.5 million commitment by Energy Access Ventures Fund, in partnership with four major DFIs, to transform lives and stimulate economic development across Africa by providing energy access to one million people by 2020.
Download the pdf of our Sustainability Report here. 
To explore how Schneider is committed to ensuring that #LifeIsOn for everyone, everywhere, and at every moment, visit us here.
More From Schneider Electric
Thursday, January 14, 2021 - 5:35pm
Tuesday, January 12, 2021 - 5:45pm
Tuesday, January 5, 2021 - 3:20pm