Edison International Sustainability Report: 2018 at a Glance
Edison International Sustainability Report: 2018 at a Glance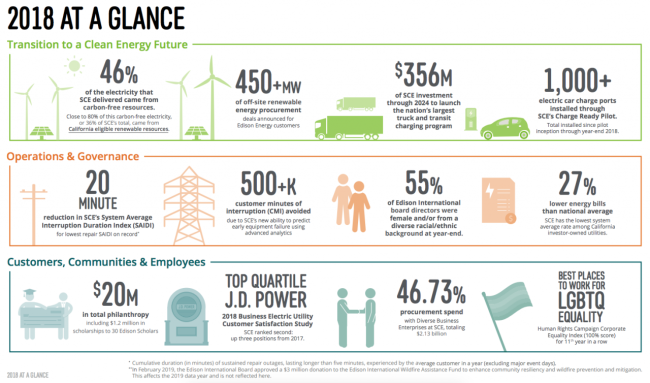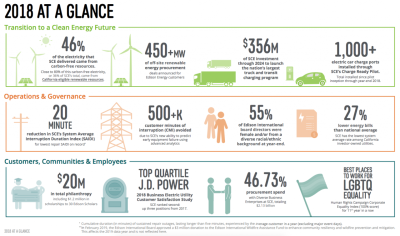 tweet me:
Here's a snapshot of @Edisonintl's 2018 and all the progress they've made on their #sustainabiltiy goals. read their full 2018 Sustainability Report here. @SCE @Edison_Energy http://bit.ly/2F5X545
Tuesday, June 18, 2019 - 2:00pm
At Edison International, our vision is to lead the transformation of the electric power industry toward a clean energy future. Through our subsidiaries, we distribute and generate electric power, as well as provide energy services and technologies, including renewable energy. Headquartered in Rosemead, California, Edison International is the parent company of Southern California Edison (SCE), one of the nation's largest electric utilities. Edison International is also the parent company of Edison Energy, an independent advisory and services company with advanced analytic capabilities to design the optimal energy portfolio solution for large commercial and industrial customers. Edison Energy is independent from Southern California Edison.*
* Edison Energy is not the same company as Southern California Edison, the utility, and Edison Energy is not regulated by the California Public Utilities Commission.
Read Edison International's full 2018 Sustainability Report here.
More From Edison International
Tuesday, November 17, 2020 - 9:00am
Wednesday, November 11, 2020 - 10:45am
Tuesday, November 10, 2020 - 10:10am