Driving Sustainability Standards Ever Higher
Driving Sustainability Standards Ever Higher
GRI makes key appointment as Chief Development Officer joins the organization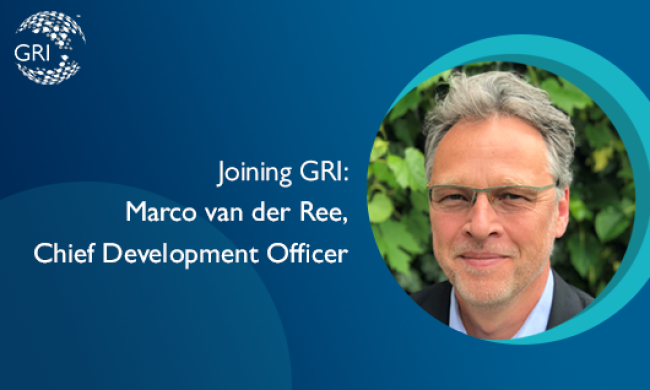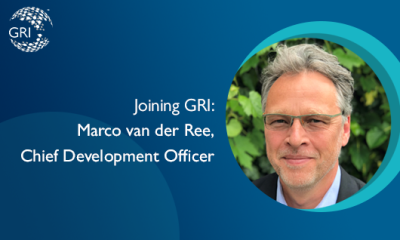 tweet me:
Marco van der Ree appointed by @GRI_Secretariat as Chief Development Officer. Marco will be leading the work to diversify & implement GRI's fundraising strategy, as well as overseeing outreach to institutional, foundation & public donors. http://bit.ly/2XO7Gvi
Tuesday, July 9, 2019 - 9:00am
GRI is raising its capacity to build on the success of the GRI Standards, following the recruitment of Marco van der Ree as Chief Development Officer.
The new appointment will be crucial in ensuring the funding is in place to support the future delivery and improvement of the GRI Standards – the world's most widely used sustainability reporting framework.
Marco, who starts in post on 15 July, will lead work to diversify and implement the organization's fundraising strategy and oversee outreach to institutional, foundation and public donors.
Marco moves to GRI from his previous position as Director Business Development and Fundraising for the European Institute of Innovation and Technology's Climate Knowledge Innovation Community (EIT Climate-KIC). He has more than 20 years' experience with international organizations, in partnership building and program management, fundraising and campaign delivery.
GRI Chief Executive Tim Mohin said:
"I am thrilled to welcome Marco van der Ree to the GRI executive team. Marco is a seasoned fundraising professional who is very experienced and committed to the cause of sustainability. Because GRI provides its Standards as a free public good, fundraising is essential to support our work." 
Marco van der Ree added:
"GRI sets the standards that support organizations to understand their impacts, become transparent, hold themselves accountable and change business processes to drive towards sustainability.
It is a pleasure to be joining GRI at a time when companies are playing a key role in the transformation necessary to address ESG concerns – such as the challenges associated with climate change - for which reporting through the GRI Standards provide the roadmap."
Notes to editors
 The Chief Development Officer has responsibility for:
Developing and implementing the global strategy to strengthen GRI's grant financing through a comprehensive, diversified development strategy;
Engagement and messaging to reach donors and potential funders;
Managing GRI's development department.
Marco van der Rees' past experience includes three years (2015-2018) as special adviser to the Collaborating Centre on Sustainable Consumption and Production, prior to which (1999-2015) he worked in various roles for UN Volunteers, UN Office for Project Services and the UN Capital Development Fund.
Marco is founder of consultancy firm Brokering Solidarity, who bring together organizations and communities to collaborate through sustainable development initiatives. During his career he has worked globally and lived in the Netherlands, Germany, Spain, USA, Mozambique and Brazil. Marco holds a Masters in International Relations from the University of Amsterdam with a focus on environmental policy.
Global Reporting Initiative (GRI) is an independent international organization, based in Amsterdam with a presence around the world, that helps businesses, governments and other organizations understand and communicate their sustainability impacts.
More From GRI
Friday, August 7, 2020 - 8:00am
Monday, August 3, 2020 - 8:50am
Wednesday, July 29, 2020 - 10:00am