Domtar Sustainability: Waste Want, Not Want
Domtar Sustainability: Waste Want, Not Want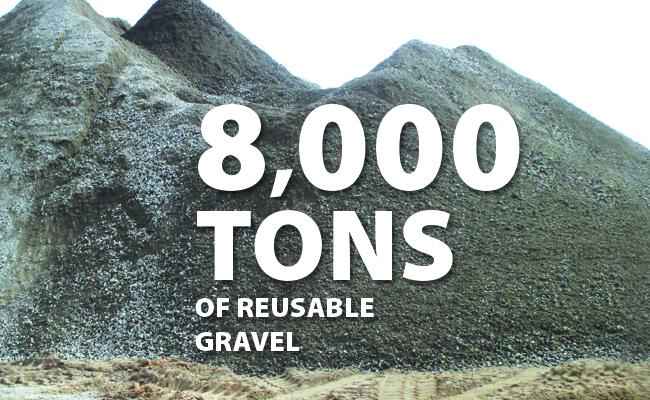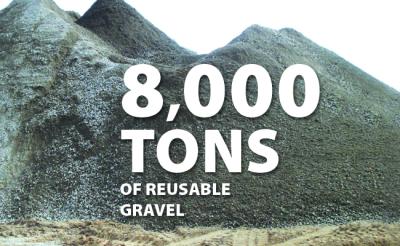 tweet me:
Learn how @domtarevery converted demolition waste into 8,000 tons of reusable gravel http://bit.ly/2wrpGON #sustainabilityreport
Tuesday, August 22, 2017 - 9:15am
Putting construction and demolition waste—concrete, brick, tile and stone— to beneficial use is a winning strategy for our mill in Nekoosa, Wisconsin. During construction or demolition work at the mill, these materials are kept aside instead of going to a landfill. When sufficient material is accumulated over a number of years, the recycling work begins.
The mill brings in a contractor to break up concrete, remove residual rebar steel and crush the rubble into fine gravel. The steel is recovered and sold to a scrap metal dealer, while the gravel is stockpiled for use on various road maintenance projects on mill property.
In 2016, the pile was converted into about 8,000 tons of reusable gravel, allowing the mill to reap a double benefit. Construction and demolition waste was diverted from its landfill and the mill gained a supply of recycled aggregate at roughly one-half the cost of purchasing new gravel from a commercial quarry.
Domtar's 2017 Sustainability Report details the company's endeavor to take a longer term view of creating and preserving value for our shareholders, customers, employees and communities.  For more inspiring stories about Domtar's sustainability efforts, visit the Domtar Newsroom. To view the full 2017 Sustainability Report click here. 
Contact
Dan Persica, Sustainability Communications Manager
More From Domtar
Friday, July 3, 2020 - 12:00pm
Tuesday, June 23, 2020 - 2:30pm
Wednesday, June 17, 2020 - 10:30am