Cummins Plays Key Role in Producing Masks to Curtail Spread of COVID-19
Cummins Plays Key Role in Producing Masks to Curtail Spread of COVID-19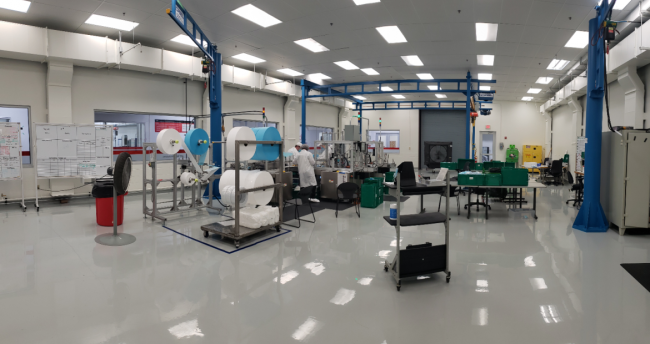 tweet me:
.@Cummins uses filtration know how to help the world mask-up against #COVID19, producing 146 metric tons of media for masks around the world in 2020, enough to make more than 108 million masks to help reduce the spread of COVID-19. https://bit.ly/2ZuTO8e
Monday, February 22, 2021 - 10:40am
Cummins, a global leader in power technologies, used its filter expertise to produce 146 metric tons of filtration media for mask manufacturers around the world in 2020, enough to make more than 108 million masks to help reduce the spread of COVID-19.
That total includes media the company produced to make masks for its own employees, an initiative starting in June 2020 when Cummins announced it would begin mask manufacturing at three sites. Those sites produced about 10 million masks for use companywide in 2020 and continue in operation today.
"When the pandemic first started, Cummins re-evaluated our supply base and manufacturing capabilities to identify how we could support healthcare professionals and essential workers who rely on critical personal protective equipment to do their jobs," said Steph Disher, Executive Director of Cummins Filtration, which designs and manufactures filtration products for diesel and natural gas powered equipment.
"It has been an honor to use our technology and workforce to help communities around the world during these challenging times," she said
The overwhelming majority of the filtration media produced for masks last year went toward the standard masks people are wearing at work, school, shopping and other activities outside their homes. Cummins Filtration, however, also produced media for N95 and KN95 masks.
In addition, the company partnered with 3M to produce 566,000 filters for 3M's powered air-purifying respirators (PAPR) used by health care professionals at risk of airborne pathogens. That partnership used equipment typically employed to produce diesel engine filters to manufacture the high-efficiency particulate filters used in 3M's PAPRs.
It was one of several partnerships resulting in Cummins playing a key role in the production of equipment to help guard against the spread of COVID-19. The company worked with DuPont to address the shortage of N95 respirator masks, using Cummins' NanoNet® filter media.
And Cummins partnered with the Department of Energy's Oak Ridge National Laboratory on a process converting microfibers into a fabric capable of reducing the spread of viruses, including COVID-19.
More From Cummins Inc.
Wednesday, April 7, 2021 - 9:45am
Tuesday, April 6, 2021 - 12:25pm
Wednesday, March 31, 2021 - 8:45am