Crypto-Carbon: Nori's Paul Gambill
Crypto-Carbon: Nori's Paul Gambill
tweet me:
This wk's @SeaChangeRadio - "Crypto-Carbon: Nori's Paul Gambill." A great explanation of how #blockchain technology works and how @noridoteco hopes to apply it to fight #climate change. http://www.cchange.net/2018/04/24/nori/
Multimedia from this Release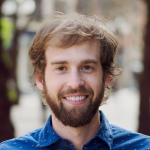 Wednesday, April 25, 2018 - 12:10pm
If you ask most people what they think of blockchain applications or cryptocurrency, the response is usually a blank stare of utter bafflement. Well, this week on Sea Change Radio, we are going to try to make some sense of this arcane concept because our guest today, Paul Gambill, has devised a carbon dioxide removal marketplace which incorporates blockchain applications. Gambill explains how his new startup, Nori, uses blockchain applications, how it plans to ramp up into a vibrant marketplace of buyers and sellers, and why he believes this could actually help reverse the effects of climate change.
More From Sea Change Radio
Wednesday, October 16, 2019 - 2:00pm
Tuesday, October 8, 2019 - 6:45pm
Wednesday, October 2, 2019 - 9:00am