Creating Sustainable Communities Through the Power of Green Sports
Creating Sustainable Communities Through the Power of Green Sports
Kick off Conference Season with Labor Day Savings on 3BL Forum!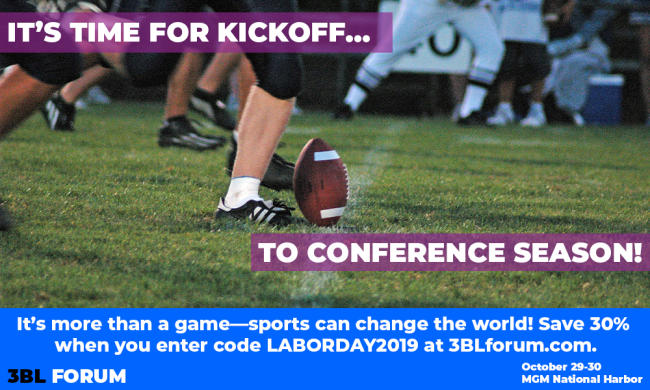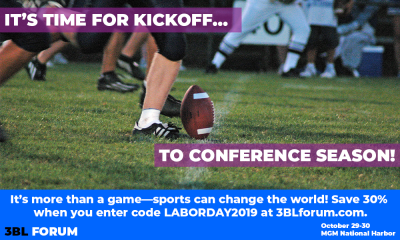 tweet me:
Creating sustainable communities through the power of #GreenSports: #3BLForum: Brands Taking Stands - What's Next is proud to partner with Green Sports Alliance @sportsalliance Find out more and register here: http://bit.ly/2Lr8TR0
Thursday, September 5, 2019 - 1:35pm
The competition, the elation, the despair, the intensity—it's that time of year again.
But we're not talking about football being back. We're talking about the kick off to conference season!
No industry has more potential to change the hearts and minds of consumers than sports—putting stakeholders in a unique position to be a force for good by inspiring positive change where we live and play. That's why 3BL Forum: Brands Taking Stands - What's Next is proud to partner with Green Sports Alliance.
Formed in 2010, Green Sports Alliance is the leading environmentally-focused trade organization dedicated to convening stakeholders from the sporting world to promote healthy, sustainable communities. This October 29-30, we're excited to welcome three leading voices in the green sports movement to the 3BL Forum main stage:
National Hockey League (NHL) EVP of Social Impact, Growth Initiatives & Legislative Affairs Kimberly Davis
Green Sports Alliance Executive Director Roger McClendon
ESPN VP of Corporate Citizenship Kevin Martinez
Now through Sept. 6, put on your pads and get ready to suit up for 3BL Forum with 30% off tickets when you enter the code LABORDAY2019 at checkout. If you're a sports fan, you won't want to miss our panel discussion on the transformative and sustainable power of sports.
"As more corporate boards and CEOs are supporting a progressive environmental, social and governance (ESG) agenda, the appetite to learn from peers is growing," said Dave Armon, CEO of 3BL Media. "We've designed 3BL Forum to be an inclusive learning environment for business leaders at all stages of their sustainability journey. Learning from the CEO of Ben & Jerry's and more than 70 additional sustainable business leaders makes this one of the strongest professional development events of 2019."
Register for 3BL Forum by Sept. 6 using the code LABORDAY2019 at checkout to receive 30% off your tickets to hear our first-ever panel discussion on sustainability and the power of sports!
Contact:
Margie Kuchinski
Director of Brand Marketing at 3BL Media