Common Impact and Fidelity Investments Scale Tech Impact Week to 6 Cities Across the U.S.
Common Impact and Fidelity Investments Scale Tech Impact Week to 6 Cities Across the U.S.
One day, skills-based volunteer event pairs 450 employees with nearly 70 nonprofits to solve technology challenges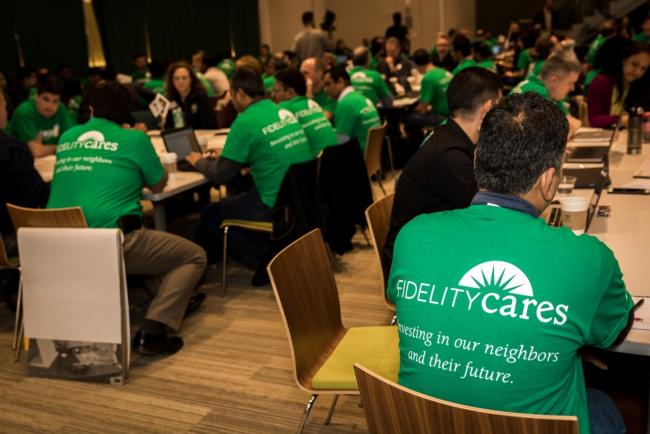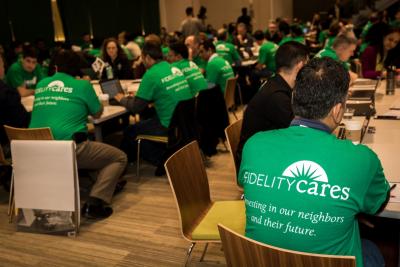 tweet me:
Today @CommonImpact partners w/ @Fidelity to kick off Tech Impact Week, its 3rd annual wide-scale flash consulting event where @Fidelity technologists utilize their expertise to support local #nonprofits. Full story: http://bit.ly/2Fa1GAo #probono #FidelityCares
Monday, March 5, 2018 - 9:00am
BOSTON, March 5, 2018 /3BL Media/-- Common Impact, a nonprofit that pioneered corporate skills-based volunteering is collaborating with Fidelity Investments® to launch Tech Impact Week, its 3rd annual wide-scale flash consulting event where Fidelity Investments technologists utilize their expertise to support local nonprofit organizations in building their internal capacity and acumen. This year, the initiative is one of the largest to-date, spanning across 6 regions and pairing nearly 450 Fidelity Investments volunteers and 67 nonprofits, resulting in an anticipated investment of $550,000.  
Fidelity Investments volunteers will address challenges across a variety of functional areas during Tech Impact Week, with a majority focused on technology. Complementing the domestic scale, 3 international locations have decided to hold their own flash consulting events in conjunction with Tech Impact Week, bringing the total global investment to nearly $600,000. Among the U.S.-based projects, the service day will also serve as a launch pad for Fidelity Investments to continue its engagement with 12 of the non-profits to help them address their technology challenges longer-term.
In partnership with Common Impact over the past 15 years, Fidelity Investments has historically run longer-term projects ranging from 4 to 6 months in length, which still continues today. Integrating this quick-impact support with Fidelity Investments' signature and involved longer-term approach represents a sophisticated strategy to support nonprofits at a high volume, while maintaining a depth of impact by supporting them with implementation. "Tech Impact Week sows a foundation for ongoing cross-sector strategies and relationships that unlock new, critical capacity building resources for nonprofits.  When nonprofits and employees connect in these days of service, they begin a long-term practice in skills-based volunteering." said Common Impact, CEO Danielle Holly.
Tech Impact Week not only allows for a deeper investment in the community, but provides volunteers with the forum to further develop their technology expertise and collaborate across departments. "It was great to work together to solve a real-world problem for an organization with an inspiring mission, but limited resources," said a Fidelity Investments volunteer who participated in last year's event.
This year, Fidelity Investments is focused on building the functional and leadership competencies of their next generation talent, targeting high performing individuals from new hires to Directors. Tech Impact Week will bring together associates across teams, departments and business units, ultimately fostering company-wide connectivity, collaboration and skill sharing.  "Many people do not realize that Fidelity Investments employs more than 10,000 technologists," said Steve Neff, head of technology and global services at Fidelity Investments. "Tech Impact Week not only provides hands-on, customer-focused training and development for our next gen technologists, but it also provides an opportunity for Fidelity Investments to make a tangible impact on the communities in which we live and work."
Tech Impact Week is taking place from Monday, March 5th through Tuesday, March 13th starting in Boston, MA and ending in Albuquerque, New Mexico.
About Common Impact
Common Impact is a nationally-recognized nonprofit that works to build a society in which individuals and businesses invest their unique talents towards a shared purpose: strengthening the local communities in which we live and work. Founded in 2000, Common Impact has partnered with Fortune 500 companies and hundreds of the country's leading nonprofit organizations to create this transformational change through skills-based volunteering. For more information about Common Impact's work, visit "The Promise of Skills-Based Volunteering," published in the Fall 2017 issue of the Stanford Social Innovation Review. Follow us on Twitter, Facebook, and LinkedIn.
About Fidelity Investments
Fidelity's mission is to inspire better futures and deliver better outcomes for the customers and businesses we serve. With assets under administration of $6.8 trillion, including managed assets of $2.4 trillion as of December 31, 2017, we focus on meeting the unique needs of a diverse set of customers: helping more than 26 million people invest their own life savings, 23,000 businesses manage employee benefit programs, as well as providing more than 12,500 financial advisory firms with investment and technology solutions to invest their own clients' money. Privately held for 70 years, Fidelity employs more than 40,000 associates who are focused on the long-term success of our customers. For more information about Fidelity Investments, visit https://www.fidelity.com/about.
Inquiries please contact Lauren Chasanoff (lchasanoff@commonimpact.org).
# # #
Fidelity Brokerage Services LLC, Member NYSE, SIPC,
900 Salem Street, Smithfield, RI  02917
Fidelity and Common Impact are not affiliated.
836373.1.0
@ 2018 FMR LLC. All rights reserved.