Commentary: As Demand for ESG Investing Grows, So Too Does the Need for High-Quality Data
Commentary: As Demand for ESG Investing Grows, So Too Does the Need for High-Quality Data
By: Brad Foster and David Tabit, Bloomberg LP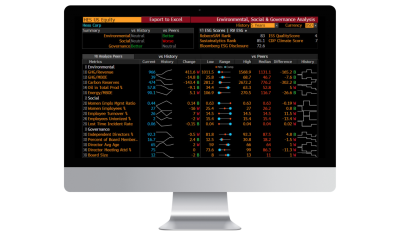 tweet me:
Commentary: As demand for #ESG investing grows, so too does the need for high-quality data @bloomberg @pensionsnews #sustainablefinance http://bit.ly/2GDUtMl
Wednesday, April 24, 2019 - 2:40pm
Originally posted on Pensions & Investments.
Climate change has already begun to affect business, with extreme weather, flooding, wildfires and drought threatening company assets and supply chains. As the environment evolves, companies that improve their energy efficiency and create new products and services will survive and companies that are slow to change will struggle. The financial services community is keenly aware of this challenge, and many professional money managers are now looking for ways to integrate environmental, social and governance data into their investment approaches to better manage risk and find opportunities in a changing world.
Click here to read the complete article. 
Learn more about Bloomberg's Sustainable Finance solutions. 
More From Bloomberg
Friday, April 16, 2021 - 1:25pm
Friday, April 9, 2021 - 4:05pm
Friday, March 12, 2021 - 3:00pm