Comerica Bank and Grand Rapids Griffins Present Hockey Without Barriers Nights
Comerica Bank and Grand Rapids Griffins Present Hockey Without Barriers Nights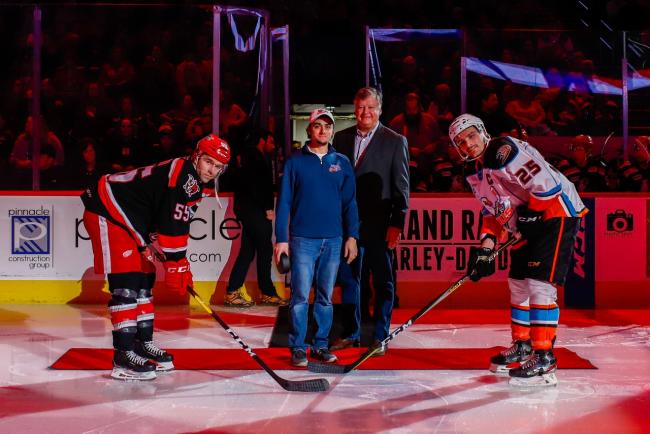 tweet me:
.@ComericaBank partners with @griffinshockey to help present first Hockey Without Barriers Night http://bit.ly/37CUStr
Wednesday, January 29, 2020 - 4:45pm
Nothing will keep the inspiring hockey players representing groups like the U.S. Blind Hockey Team, Grand Rapids Sled Wings and the West Michigan Special Hockey Association off the ice – no matter the challenges or obstacles that some may think stand in their way.
In fact, these athletes relish every chance to showcase their talents and play the game of hockey.
This year, those talents were on full display at the inaugural Grand Rapids Griffins Hockey Without Barriers Night, played Jan. 25 at Van Andel Arena, which Comerica Bank served as the presenting sponsor.
The community celebration highlighted the many ways people with various disabilities can still play and compete in a sport they are so passionate about.
"We all love this sport and know the tremendous impact it can have on people's lives, and we're proud to be associated with so many great organizations that ensure that everyone can play it despite any financial, physical or social circumstances," said Tim Gortsema Grand Rapids Griffins team president.
"We're grateful for Comerica's partnership in helping us present our first Hockey Without Barriers Night."
And its partnerships, like those between the Griffins – Detroit Red Wings primary affiliate – and Comerica, that produce relationships which become powerful resources for the community.
"Just as Comerica has been a partner of the Griffins' since our inception, the Griffins have long supported the Griffins Youth Foundation, the Grand Rapids Sled Wings and other organizations that provide hockey opportunities for those facing barriers to participation," said Gortsema.
For Comerica, helping others flourish includes partnering with organizations relentlessly committed to helping their own communities.
"We are so honored to partner with the Griffins for this special night of hockey because it not only displays the amazing talent of so many in the hockey community but it also exemplifies our feats when we support each other," said John Porterfield, Comerica Bank Grand Rapids regional president. "Diversity and inclusion make us stronger, and Hockey Without Barriers Night reminds us all how working together can help our communities thrive."
To start the evening, Tim Kane, member of the U.S. Blind Hockey Team and an athletic trainer who is legally blind due to a juvenile degenerative condition, dropped to ceremonial puck. Kane spearheaded another inaugural event held the following day with the Griffins that invited visually impaired individuals of all ages from across Michigan to try and play blind hockey.
Both intermissions featured spirited contests on the ice by the Grand Rapids Sled Wings, which is a team of sled hockey athletes with physical disabilities. The next intermission handed the ice over to the West Michigan Special Hockey Association, an amateur-level ice hockey program for children and young adults with Down syndrome, autism or other developmental disabilities.
"The whole point of Hockey Without Barriers Night is to introduce to the people of West Michigan the idea that you can be a part of the sport no matter your disability," said Brandon Nelson, director of game presentation for the Griffins. "There are many different avenues for people to experience the game of hockey.
"We want to bring greater awareness to the fact that there are virtually no barriers to the game of hockey that can't be overcome."
More From Comerica Bank
Tuesday, June 30, 2020 - 2:40pm
Friday, June 19, 2020 - 8:30am
Thursday, June 18, 2020 - 10:30am