Closed Loop Partners joins with CVS Health, Target & Walmart to Announce Winners of "Beyond the Bag" Innovation Challenge
Closed Loop Partners joins with CVS Health, Target & Walmart to Announce Winners of "Beyond the Bag" Innovation Challenge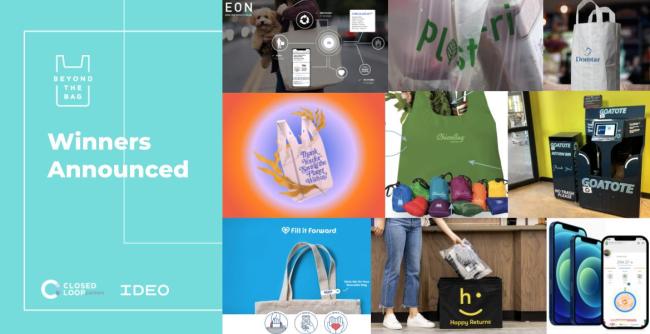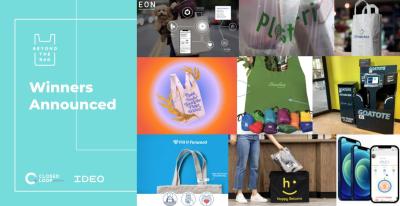 tweet me:
.@AlbertsonsCos is a member of @LoopFund's Consortium to Reinvent the Retail Bag, and the 9 winners of the #BeyondtheBag challenge were announced today. Winners will receive a portion of the $1M funding to create alternatives to single-use plastic bags https://bit.ly/3andb9z
Tuesday, February 16, 2021 - 3:15pm
The Center for the Circular Economy at Closed Loop Partners announces the nine winners of the Beyond the Bag Challenge: ChicoBag, Domtar, Eon, Fill it Forward, GOATOTE, PlasticFri, Returnity, SmartC and Sway. 
The Consortium to Reinvent the Retail Bag is a pre-competitive collaboration committed to reimagining the retail bag and creating a more circular delivery system… The Consortium has welcomed additional partners DICK'S Sporting Goods, Dollar General, Kroger, The TJX Companies, Inc., Ahold Delhaize USA Brands, Albertsons Companies, Hy-Vee, Meijer, Wakefern Food Corp., and Walgreens, who have joined in its mission.
"There is no one-size-fits-all solution to tackle a problem as complex as our reliance on single-use plastic bags," says Kate Daly... "The diversity of our winners underscores how businesses and consumers alike need to employ a range of solutions to fit different geographic, social and economic contexts."
Read the press release here.
More From Albertsons Companies
Wednesday, April 7, 2021 - 5:25pm
Friday, April 2, 2021 - 9:30am
Friday, March 26, 2021 - 5:00pm