Celebrating Community, Identity, and Hispanic Heritage Month With Booz Allen's Latin American Network
Celebrating Community, Identity, and Hispanic Heritage Month With Booz Allen's Latin American Network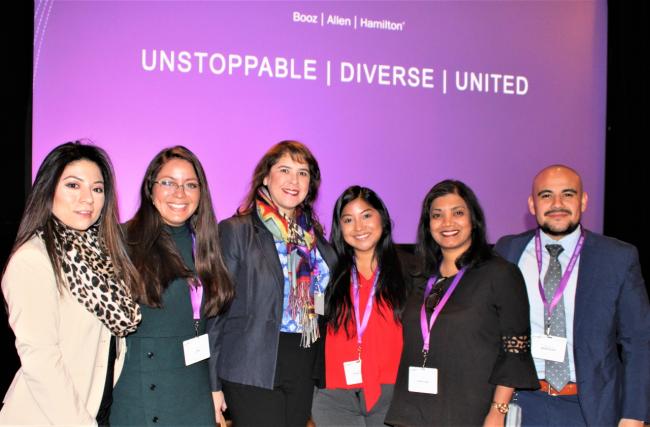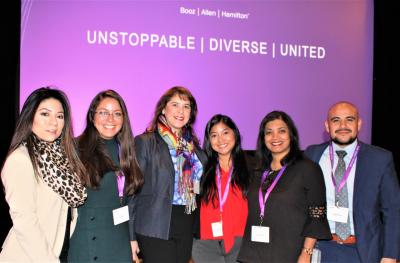 Monday, October 5, 2020 - 8:00am
"The more representation we have, the stronger we are as a community."
Every year from September 15 to October 15, National Hispanic Heritage Month celebrates the cultures, histories and accomplishments of American citizens whose ancestors come from Central and South America, the Caribbean, Mexico, and Spain.
This month is a special time of community and connection for Booz Allen's Latin America Network (LAN), which supports members' professional growth and advancement while raising awareness of their culture and impact.
"It's a chance to acknowledge the impact of citizens like Supreme Court Justice Sonia Sotomayor and civil rights activist Dolores Huerta. It's also an opportunity to recognize how Hispanic leaders in the firm are addressing our country's challenges, from digital analytics to cybersecurity to health care," said Lead Technologist Angelina Romualdo, who, with lead technologist Sebastián Montalvo, co-chairs LAN.
Reflecting back and looking forward with hope and enthusiasm
This year, LAN is celebrating Hispanic Heritage Month under the theme of "Hispanic Americans: A History of Serving Our Nation."
"This year's theme is spot on," said Vice President Jeniffer De Jesus Roberts, who, along with fellow Vice President Michael Ruiz, serves as a co-executive sponsor of LAN. "Hispanic Heritage Month is a time to celebrate our rich culture, history, and the contributions we have made. It is also a time to look forward with hope and enthusiasm to the endless possibilities of accomplishments and achievements that we can make by living our purpose and values and working together as one."
The full agenda of community, connections, and fun–all virtual this year due to COVID-19—includes the following activities:
Q&A opportunities with Booz Allen executives, including a first-time virtual "fireside chat" with CEO Horacio Rozanski, who is originally from Argentina
A screening of "Mucho Amor - The Legend of Walter Mercado" with Booz Allen's GLOBE+ BRG, which advances the professional development, growth, and visibility of LGBTQ+ and ally employees
A virtual happy hour featuring mariachi and guitar music and a series of online cooking classes
The events—and efforts to bring them all online—are the culmination of countless evening and weekend hours by LAN's board and volunteers, said Romualdo.
"COVID made us pivot," said Romualdo. "How can we still celebrate and have that connection?"
A place to grow and make connections
Year-round, LAN is a powerful resource for professional development, giving members the opportunity to expand their skills in areas such as communications, strategy and operations, managing budgets, and presenting in front of executive leadership in a supportive setting.
"You can make some mistakes and that's OK," said Montalvo. "You're learning new skills while advancing a great cause."  
LAN is growing, with regional chapters in San Diego, San Antonio, and Aberdeen, MD, joining the main group in Washington, DC. The network has always been a powerful venue for making connections throughout the firm. "I've gotten most of my mentors through LAN," Montalvo said. "Meeting one-on-one with executive leadership has allowed me to propel my career forward."
Celebrating identity while supporting the next generation
"Being a part of LAN is one of the ways I can celebrate my identity," said Romualdo, whose parents are from Mexico. She and Montalvo, who grew up in Ciudad Juárez then El Paso, are the first generations of their families to pursue the educational and career paths they have.
Through LAN, they have a welcoming, inclusive environment to connect with others over common experiences. And through LAN's partnerships with organizations like Project Basta—which helps first-generation students connect to employers and careers—they are able to engage and encourage the next generation.
Growing up, Montalvo remembers "seeing folks who have great jobs and not seeing many Latinos. When I saw them I'd wondered: 'How do I get there?' " At Booz Allen, "We have a lot of people doing great jobs in great accounts," he said. "The more representation we have, the stronger we are as a community."
Learn more about diversity, equity, and inclusion and multiculturalism at Booz Allen.