Celebrating Black History Month: Jessica O. Matthews
Celebrating Black History Month: Jessica O. Matthews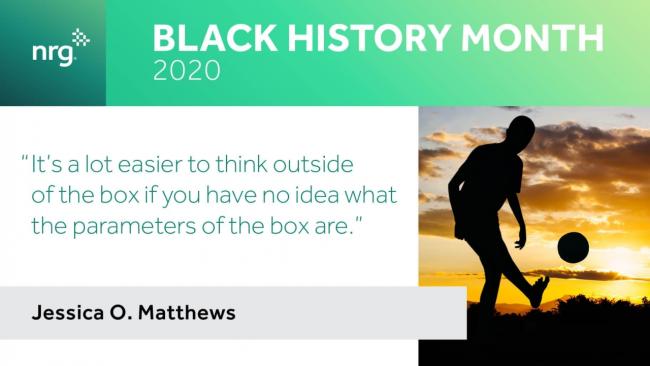 tweet me:
Learn about entrepreneur Jessica O. Matthews and how her kinetic-capturing soccer ball helps power the developing world in this latest blog post from @NRGEnergy http://ms.spr.ly/6011Tb6gJ #BlackHistoryMonth
Monday, February 24, 2020 - 10:45am
Every February, the United States commemorates African Americans who have overcome adversity throughout history and gone on to inspire others. Black History Month is about togetherness, and the people who have shown us that our differences and diversity are what ultimately make us a stronger and more compassionate country. This sentiment is close to us at NRG as we continue to celebrate inclusion and diversity as one of our Power Values. Our employees' individual differences help fuel innovation and understanding so we can best serve each other and our customers.
In celebration of Black History Month, we are highlighting African Americans who have made significant impacts on the energy industry. Throughout February, we will feature three inspiring individuals, so be sure to check back often and share this blog with your friends and family.
Jessica O. Matthews    
It takes an innovative mind to correlate a soccer ball with electricity. It takes an entrepreneur — a modern-day pioneer like Jessica O. Matthews — to turn such an item into a source of energy for the developing world. But that's exactly what she did. Growing up in Poughkeepsie, New York, she quickly developed a passion for science, attending fairs and shadowing her parents' technology business.
Matthews went on to attend Harvard Business School where, in her junior year, she attended her aunt's wedding in Nigeria. During this trip, she witnessed a frequent occurrence — a power outage – which required the locals to turn to diesel-powered generators for electricity. The generators ran for long periods of time, often in the same vicinity as children playing soccer. Concerned about the children breathing in diesel fumes, Matthews brainstormed how she could make a difference.
Upon returning to Harvard, Matthews and classmate Julia Silverman created Soccket — a soccer ball that harnesses and stores kinetic energy. The soccer ball was designed so efficiently that playing with it for just half an hour generated enough energy to power an LED light for up to three hours. This allowed kids in developing countries to turn their favorite pastime into a way to provide enough light to do homework once it got dark. Shortly after, Matthews created another power-generating toy — a jump rope that produces up to three hours of power for an LED with just fifteen minutes of jumping.
Matthews' work continued to evolve, but her drive for change in the power industry remained the same. She expanded her horizons and got involved in global infrastructure projects, helping develop a 30 MW hydropower dam in Nigeria, among the first hydroelectric dam projects privatized in the country.
Matthews' success is recognized widely. She received the Innovator of the Year award from Black Enterprise in 2013, and has been named on both the Forbes 30 Under 30 in 2014, and Fortune's Most Promising Women Entrepreneurs in 2016.
More From NRG Energy
Friday, January 15, 2021 - 8:50am
Thursday, November 5, 2020 - 11:30am
Thursday, October 29, 2020 - 12:30pm