In CEO Takeover, Young Woman Shows the Way for Future Women Leaders
In CEO Takeover, Young Woman Shows the Way for Future Women Leaders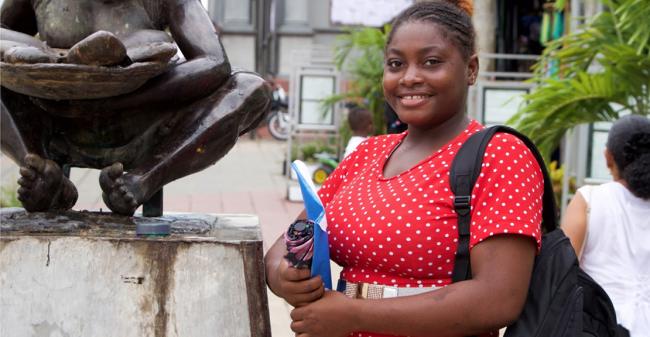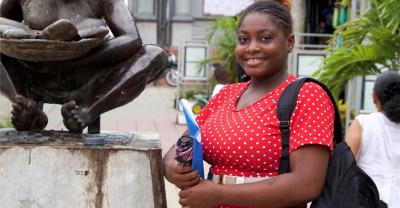 tweet me:
.@ScotiabankViews impact story: 18-yr old Sindy Mosquera traded in her role as high school student to become CEO at Scotiabank's Colombian subsidiary Banco Colpatria http://bit.ly/2IClQbg
Tuesday, June 19, 2018 - 12:15pm
One day last October, 18-year-old Sindy Mosquera traded in her role as high school student to become CEO at Scotiabank's Colombian subsidiary Banco Colpatria, one of Colombia's largest banks. It was an opportunity that changed her life.
While the experience was a dream come true for Sindy, the global "CEO Takeover" initiative served a larger purpose. For Scotiabank, it was an opportunity to advance two of our key CSR priorities: Diversity and Inclusion and Investing in Young People. For Sindy and girls like her facing barriers to their education, it was a way to send a strong message that girls belong anywhere they aspire to be.
Sending a clear message
The CEO Takeover was part of the United Nations' 2017 International Day of the Girl and Plan International's #GirlsBelongHere campaign. Some 600 young women took over top jobs at organizations around the world.
Banco Colpatria CEO Santiago Perdomo says he welcomed the opportunity to show that girls and women can be empowered in their role as leaders.
"Having Sindy take over as President of Colpatria for one day was a way to make girls' power and potential visible," Santiago says. "This initiative is a perfect example of Banco Colpatria's inclusion programs."
Overcoming barriers
The initiative was also a way for Scotiabank to raise awareness about the obstacles Sindy and other girls face in pursuing their education. Sindy is from Chocó, the largest Afro-Colombian district in Colombia, and one of the poorest regions in the country. Santiago points out that in countries like Colombia, girls are often the most vulnerable group. When resources are scarce, education for girls is not often the priority. "This makes it challenging for girls to go to school and, as a result, many suffer discriminatory practices," he says.
Access to education is the key to unlocking opportunities, studies show. Women invest 90% of their salary in their family's well-being which means that there is a multiplier effect from education, helping to break the circle of poverty.
Scotiabank has a long-standing commitment to help youth become the community leaders of tomorrow. The CEO Takeover is just one of many programs Banco Colpatria undertakes to inspire young people to pursue their education, with other financial education programs such Economy of Success reaching more than 1500 young people. All of these efforts give Scotiabank the opportunity to make a difference in local communities while furthering diversity and inclusion within the company.
Raising awareness
During her day as CEO, Sindy sat in on committee meetings, met clients and connected with some of the bank's prominent female leaders. Equally passionate about math and social justice, Sindy understand that access to education is the biggest barrier for many women who want to be leaders. As a volunteer with Plan International, a development and humanitarian organisation that advances children's rights and equality for girls, Sindy took part in a national discussion forum highlighting girls' role in peacebuilding. One day she hopes to become an accountant and serve her community.
"Surely this day will inspire hundreds of women in my region who are uncertain about their future due to a lack of opportunities," Sindy says. "Historically, women have not had the same opportunities as men. This condition is changing thanks to campaigns, such as this one, that raise awareness around gender inequality and help inspire women and girls."
Giving back to her community
To help support her education and dreams, Banco Colpatria presented Sindy with a new laptop, a one-year scholarship for English lessons and an ongoing mentoring relationship with Bibiana Roa, a female manager in Banco Colpatria's commercial banking division.
"I feel empowered," says Sindy of her day as CEO. "I can see myself already working and suggesting ideas to help other girls and empower them."
More From Scotiabank
Wednesday, August 5, 2020 - 4:35pm
Wednesday, July 15, 2020 - 12:55pm
Thursday, July 9, 2020 - 5:10pm