Bob Berwyn: Water in the West
Bob Berwyn: Water in the West
tweet me:
This week's @SeaChangeRadio - "Bob Berwyn: Water In The West" https://www.cchange.net/2020/01/07/berwyn/
Multimedia from this Release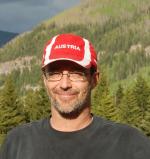 Wednesday, January 8, 2020 - 1:50pm
As we embark upon a new decade, many of us are contemplating ongoing environmental challenges and what may be in store for the earth in the decade to come. Fortunately, there are some excellent journalists out there with their fingers on the pulse, whose mission is to uncover environmental news both alarming and inspiring. This week on Sea Change Radio we are checking in with Bob Berwyn, an Austrian-based environmental journalist who writes for Inside Climate News and is in the midst of a three-month tour of the western United States and Mexico. Berwyn discusses the fragile ecosystems west of the Rockies, tells us about permaculture in Oaxaca, and examines the ethical dilemmas that both skiers and ski resorts are facing as the planet warms and snowfall becomes less consistent.
More From Sea Change Radio
Wednesday, February 26, 2020 - 7:55am
Thursday, February 13, 2020 - 9:10am
Tuesday, February 4, 2020 - 12:45pm