The Best Career Advice for Teens Takes the Unpredictable Into Account
The Best Career Advice for Teens Takes the Unpredictable Into Account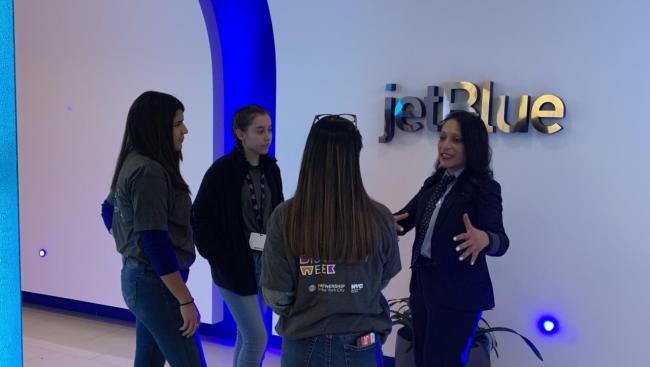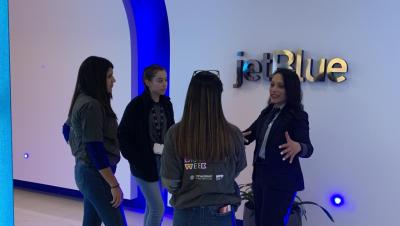 tweet me:
.@JetBlue mentors showed public school students career possibilities they might not otherwise see firsthand, or imagine for themselves as part of New York's first ever #CareerDiscoveryWeek http://bit.ly/2T1DdWd via @qz
Friday, February 21, 2020 - 1:30pm
New York has been a world capital for all manner of industries for decades, but the city's first ever Career Discovery Week was held just this month.
So it came to be that, on Valentine's Day, a class of 10th graders from the Young Women's Leadership School of Astoria (YWLSA), in Queens, gathered in a JetBlue conference room at the airline's command center in Long Island City. They wore slate-grey "New York Career Discovery Week" t-shirts, paired with either their school's grey kilt or, perhaps because it was a field trip, jeans. On round tables, several personal Nalgene water bottles sat next to JetBlue notebooks and pencils, and the odd pastel pink Valentine's loot bag was tucked under a chair.
The school's mission, according to its website, is to prepare "low income and minority women from diverse backgrounds for college and other postsecondary experiences." Its curriculum emphasizes math, science, and technology. But this particular group of exceptionally attentive visiting students weren't eager to chat about tech, even though all were part of YWLSA's computer science academic stream.
Instead, they spent the day listening with rapt attention to airline executives who traced the surprising, meandering paths that brought them to JetBlue.
More From JetBlue Airways
Thursday, April 1, 2021 - 11:35am
Tuesday, February 23, 2021 - 11:45am
Friday, February 5, 2021 - 1:00pm
Videos from JetBlue Airways