An Aspiring Pilot Veers into a Career as a JetBlue Aircraft Mechanic
An Aspiring Pilot Veers into a Career as a JetBlue Aircraft Mechanic
In training, Jerusalem Melke found she focused more on how planes work than how to fly them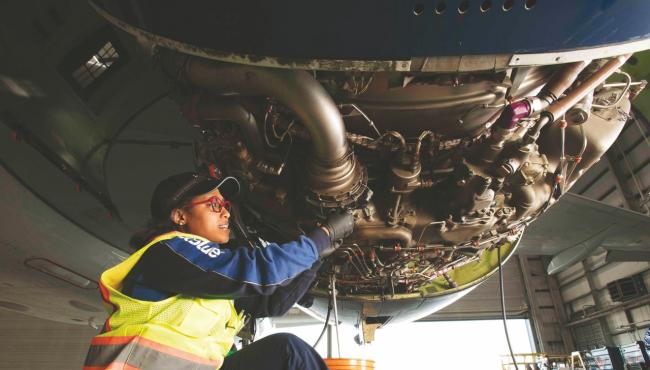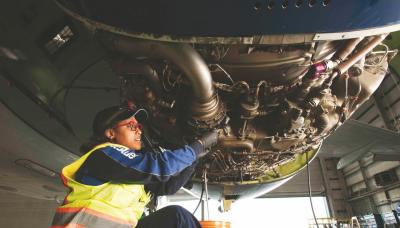 tweet me:
Learn how one aspiring pilot found a new career as a @JetBlue aircraft mechanic - and how she shows young girls that they can too http://bit.ly/2HCIr3X via @CrainsNewYork
Thursday, February 22, 2018 - 11:30am
By Hilary Potkewitz
Jerusalem Melke has spent more sleepless nights at John F. Kennedy International Airport than even the most road-weary frequent flier, although she is there by design. Melke is an aircraft technician for JetBlue Airways, and her workday starts at 10 p.m. "The terminal is pretty desolate at night, but outside the hangar it's bustling," she said.
Melke and her fellow aircraft techs perform regular maintenance checks on JetBlue planes. In addition to the engines, she is responsible for anything that spins, opens, lights up or turns on—think cockpit dials, cargo doors, wing flaps, windshield wipers.
Every March, Melke takes part in Fly Like a Girl, JetBlue's version of Take Your Daughter to Work Day. Female pilots, engineers and mechanics give young girls a hands-on tour of their jobs. "I am in a masculine field, but on that day it's all women showing little girls what is possible."
More From JetBlue Airways
Thursday, December 17, 2020 - 2:45pm
Friday, November 13, 2020 - 10:00am
Videos from JetBlue Airways