Announcing This Year's 3BL Forum: Brands Taking Stands ™ – What's Next Emcees
Announcing This Year's 3BL Forum: Brands Taking Stands ™ – What's Next Emcees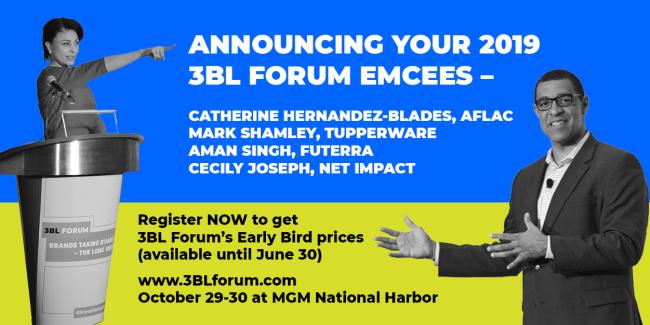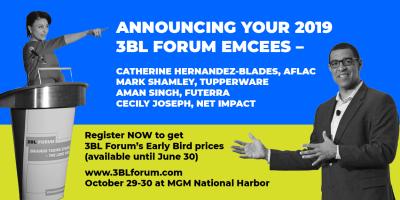 tweet me:
Meet the #sustainability leaders emceeing this year's 3BL Forum: Brands Taking Stands ™ – What's Next. Register today and save up to 25% on ticket prices. http://bit.ly/2Z48cCk
Wednesday, June 5, 2019 - 8:00am
We are extremely pleased to introduce you to our emcees for 3BL Forum: Brands Taking Stands™ What's Next. Join them as they share their insights and ideas and guide us through a two-day high-octane conversation. We will collectively explore this rapidly changing business environment and what's next for companies as they face changing expectations of investors, employees, consumers, customers and partners. 
Register before June 30 and save up to 25% on ticket prices.
YOUR 2019 EMCEES: 
Catherine Hernandez-Blades
SVP, Chief ESG and Communications Officer
Aflac
A PR News Hall of Famer and a 2017 inductee into the PR Week Hall of Femme as well as the first American to win the Relations 4 the Future Medal at the Communications 4 the Future awards at Davos. Named the 2019 Latina Style Corporate Executive of the Year, the 2018 Outstanding In-house Professional of the Year by PR Week, one of 25 Power Woman by New York Moves magazine, a four-time Top Woman in PR winner, and a four-time Bulldog Star of PR; a Communications, Marketing, Public and Government Affairs, and Crisis Management Executive with more than 25 years of professional experience, including almost a decade in the C-suite of Fortune 500 companies. 
Mark Shamley
Vice President, Global Social Impact
Tupperware Brands
Mark W. Shamley has rejoined Tupperware Brands as Vice President, Global Social Impact in April 2018 and has over 25 years of experience in corporate & public affairs, corporate social responsibility, business development and marketing. In addition to overseeing the company's worldwide citizenship strategy, he will serve as Executive Director of the Tupperware Brands Foundation. Prior to joining Tupperware Brands, Shamley was ACCP's President & CEO from 2007 until 2018. 
Aman Singh
Editor in Chief and Head of Content Strategy
Futerra
Aman Singh is a former journalist, a seasoned communicator and an experienced sustainability professional. As Editor in Chief at Futerra, a change agency working to make sustainability so commonplace its normal, she works with organizations to decode their ambition and sustainability journey with effective storytelling rooted in logic. A firm believer in the power of informed individuals, she is an avid consumer and tweeter of news and commentary – and when not on assignment, can be found watching Trolls on repeat with her toddler son.
Cecily Joseph
Vice Chair
Net Impact
Cecily is the former vice president of corporate responsibility at Symantec Corporation and currently serves as vice chair of the Net Impact board of directors. As the leader of Symantec's global corporate responsibility efforts, Cecily oversaw all environmental, social and governance program development, integration and communication. Also, serving as the head of the Symantec Foundation, she designed and implemented initiatives focused on bringing underrepresented groups including women and people of color into tech. Cecily is an ongoing champion for diversity & inclusion, having served as Chief Diversity Officer and pioneering numerous programs to increase diversity and equity within the corporate sector.