Amazon Update With Christian Poirier
Amazon Update With Christian Poirier
tweet me:
This wk's @SeaChangeRadio - learn more about the fires, deforestation and agribusiness interests in Brazil with @Cpeartree of @AmazonWatch https://www.cchange.net/2019/10/15/amazon/
Multimedia from this Release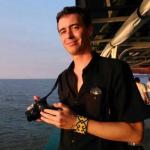 Wednesday, October 16, 2019 - 2:00pm
Over the past fifty years, around 17% of the Amazon rainforest has been destroyed, according to the World Wildlife Fund, but as this week's guest on Sea Change Radio explains, with fires and deforestation out of control, the situation could get even worse before we see any significant improvement. We speak to Christian Poirier of Amazon Watch to get a clearer picture of this largely man-made disaster in Brazil. While some steps to control the fires have been made recently by the Brazilian government, rampant deforestation continues unabated. Poirier gives us a closer glimpse into the agribusiness giants that are involved in the devastation, what his organization is doing to help stop it, and tells listeners what they can do to get involved in the struggle. Then, we take a peek into the Sea Change Radio archives and hear Kevin Walker talk about what he calls our grand food bargain.
More From Sea Change Radio
Wednesday, May 20, 2020 - 4:45pm
Wednesday, May 13, 2020 - 3:30pm
Wednesday, May 6, 2020 - 2:15pm