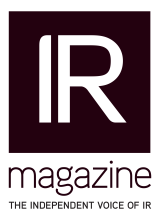 IR Magazine is a publication of IR Media Group, a media company renowned for its magazines, content driven websites, in-person and virtual events and research.
IR Magazine, helps investor relations professionals globally achieve more in their IR programmes, benchmark their efforts and connect to their peers in the IR community. In addition to reporting the latest developments, writing in-depth features, producing research reports; and broadcasting podcasts; IR Magazine also hosts events around the world.
Our region-specific awards have been the definitive hallmark of IR excellence and best practice for over 25 years now, while our content-led events offer a unique opportunity for high-level executives to share ideas with their peers and with our expert panels. IR Magazine also hosts virtual events and webinars as part of our commitment to providing ongoing education to the IR community, particularly during these difficult and challenging times.
For information on IR Magazine, visit the website: https://www.irmagazine.com/
Twitter: @IRMagazine | LinkedIn group: IR Magazine