Working With Disabilities
After surgery led to limited strength and mobility in his dominant hand, Lance LaVergne found new ways to adjust and remain productive with help from Wells Fargo's Accommodations Management team.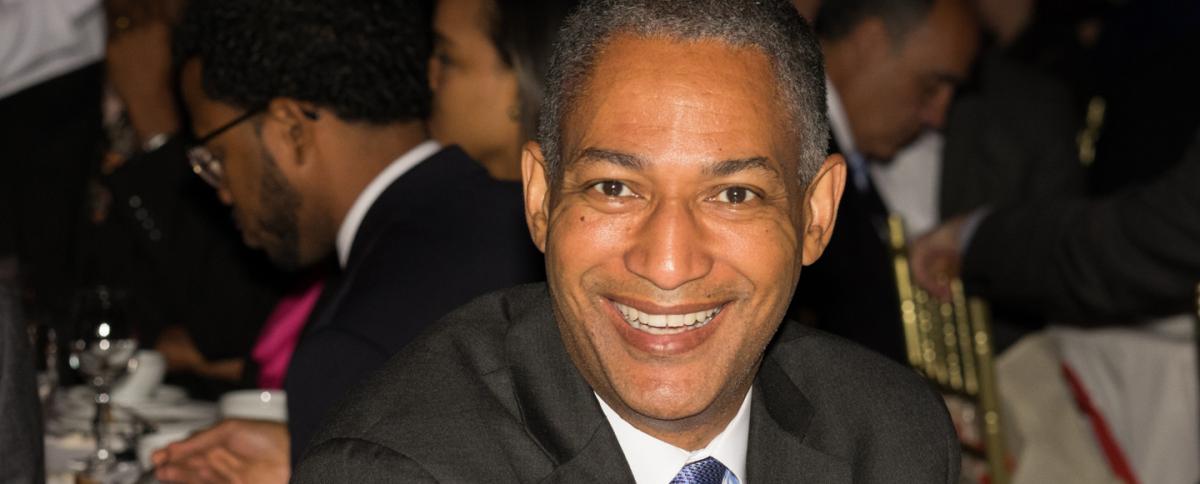 Resources provided by Wells Fargo's Accommodations Management team helped Lance LaVergne remain productive at work after surgery.
It started with a small bump on his right hand that was easy to dismiss, but when Lance LaVergne, a Wells Fargo Enterprise Talent Acquisition Strategy & Practice manager, started to feel tingling sensations radiate down through his little finger, he decided it was time to head to a doctor. After having what he thought was only a benign cyst removed, the precautionary pathology report determined it was, in fact, a myxoinflammatory fibroblastic sarcoma (MIFS) — a rare malignant soft tissue sarcoma.
"Because there's a 75 to 80 percent chance of recurrence if the tumor isn't fully excised, the course of treatment is fairly aggressive," said LaVergne. For him, that meant 25 days of radiation treatment followed by a 12-hour surgery to amputate his fifth metacarpal and little finger; transfer several tendons; and remove bone, muscle, and tissue in his right hand.
After a difficult recovery, limited strength and mobility in his dominant hand presented challenges for LaVergne when he returned to work. "Because the surgery removed some of the muscles in my wrist, I couldn't even angle my hands to rest comfortably on a traditional keyboard," he said. "Being reduced to a hunt-and-peck style of typing and not being able to work at the same pace or efficiency was a daunting prospect."
When he shared his challenges with his manager, she suggested they contact Wells Fargo's Accommodations Management team to see what kind of support was available. "From the moment my manager learned of my condition, she made it clear that my well-being was her foremost concern and that we would figure out how to make sure that the work got done," said LaVergne.
Accommodations Management suggested he begin using an ergonomic keyboard and voice recognition software and quickly secured both for him. The tools ultimately helped LaVergne be more productive at work and adjust to his new normal. "They were so understanding and helpful. There was no hesitation or delay in getting me what I needed," he said.
A work culture that is 'welcoming and supportive'
Wells Fargo has extensive disability accommodation policies, processes, tools, and resources in place to support team members with disabilities. However, some team members choose not to reach out for accommodations because, unlike LaVergne, their disabilities are invisible.
In partnership with Wells Fargo, the Center for Talent Innovation (CTI) published a first-of-its-kind study that found 30 percent of college-educated employees working full time in white-collar professions in the U.S. have a disability. Sixty-two percent of employees with disabilities have "nonevident or invisible disabilities" — meaning other people can't tell that these employees have a disability upon meeting them. Additionally, only 21 percent of employees with disabilities disclose them to their employers' human resources departments.
"The majority of people with disabilities are those with nonevident disabilities," said Kathy Martinez, head of Disability and Accessibility Strategy at Wells Fargo. "Very often, fear and misconceptions make them want to stay under the radar. However, when the work culture is welcoming and supportive, people with all types of disabilities are more willing to disclose and request accommodations, which can help them be more productive and engaged."
Every year, Wells Fargo reaches out to self-identified team members with disabilities to share information about team member career development tools and resources.
"At Wells Fargo, we encourage our team members with disabilities to self-identify so we can make sure they are aware of the full range of support and resources the company provides," said Jose Garcia, senior vice president and manager of Diversity Talent Acquisition Strategy. "As an individual with an invisible disability, I personally view it as my responsibility to disclose this since others wouldn't know about it otherwise."
In addition to providing accommodations, Wells Fargo offers ongoing professional development for team members with disabilities, a Diverse Abilities Team Member Network, and will soon offer the People with Diverse Abilities Leaders Program.
Wells Fargo's commitment to supporting team members with disabilities is evident even before they join the company. The company's recruitment site includes a designated phone number for applicants with diverse abilities to request accommodations for the interview and selection phases, and recruiters receive training on the available resources for people with diverse abilities, as well as the right language to speak intelligently and comfortably with applicants who have disabilities.
"Recruitment at Wells Fargo not only focuses on accommodating people with disabilities throughout the hiring process," said Martinez, "but is purposeful about attracting talent with diverse abilities."