Words Matter: Making ESG Communications With Employees Count
Words Matter: Making ESG Communications With Employees Count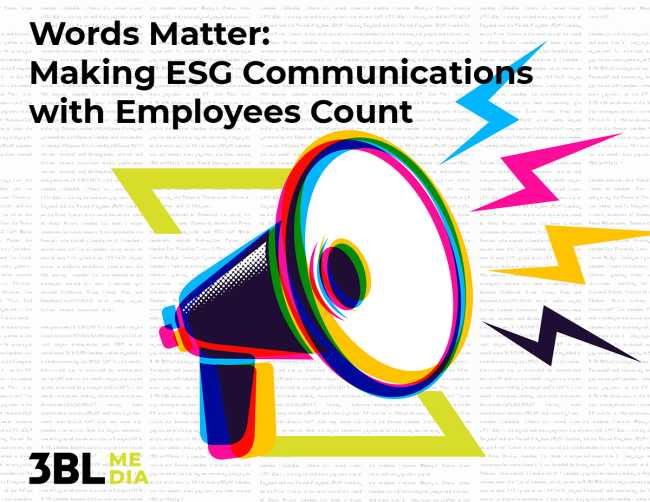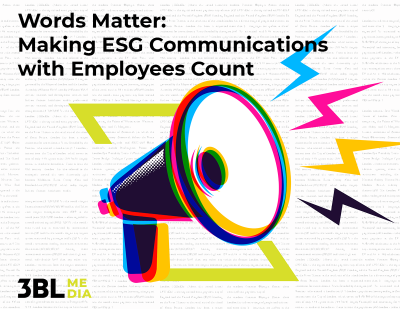 Thursday, August 5, 2021 - 8:30am
Communicating with employees on environmental, social and governance (ESG) topics has never been more critical.
The COVID-19 pandemic has accelerated engagement on ESG among forward-thinking companies and investors, with a starkly changed work landscape and battered economy slowly regaining momentum. As a result, companies are reconsidering every aspect of their businesses, including their ESG responsibilities. Along with the racial and social justice movements of 2020, the pandemic has raised expectations that business will take a stand on important social and environmental issues—not least among employees.
In fact, employee demand for corporate responsibility and sustainability is up among all generations, as people look for opportunities to help change companies from the inside out in the face of multiple global challenges.
Download 3BL Media's latest guide, "Words Matter: Making ESG Communications with Employees Count," to learn why the communication aspect of ESG shouldn't be overlooked, how to go about it (with practical tips, insights and examples) and the business benefits of making employees true partners in your sustainability journey.
You'll also discover how to…
Bring everyone, from the C-Suite to each individual team member, on board with your ESG communication strategy
Leverage Employee Resource Groups to amplify employee voices and generate engagement among colleagues
Promote a sense of pride and shared responsibility around your company's ESG initiatives throughout your organization