Westpac Group 2017 Sustainability Performance Report Shows Strong Progress Against Strategy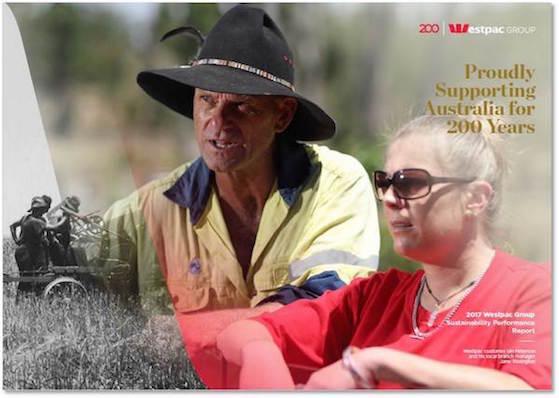 This year Westpac Group marked an extraordinary milestone in Australia's history – becoming the nation's first company to celebrate its 200th year in business.
Throughout our history we have experienced both significant growth and set-backs, which is why we know how important it is to make the right decisions today for tomorrow and to continually adapt to new and emerging opportunities and challenges. It's one of the reasons we were ranked the world's most sustainable bank in the Dow Jones Sustainability Indices this year, for the tenth time.
 
Our Sustainability Performance Report for the 2017 financial year marks the conclusion of Westpac Group's five-year 2013-17 Sustainability Strategy and provides insights into our performance across a series of social, environmental and economic indicators and an analysis of the Group's response to material issues.
2017 Sustainability Strategy performance highlights
Achievements against the Strategy's three priority areas include:
Embracing societal change
Achieved our goal of 50% women in leadership roles by 2017.
Published our updated Human Rights Position Statement and 2020 Action Plan and released our first statement in response to the UK Modern Slavery Act.
St.George Bank accredited as Australia's first dementia friendly bank by Dementia Australia.
Exceeded our 2015-2017 Reconciliation Action Plan (RAP) commitment of recruiting 500 new Aboriginal and Torres Strait Islander employees by 2017, and directed our focus to retention and development in our 2018-2020 RAP.
Environmental solutions
Released our third Climate Change Position Statement and Action Plan, including a target for lending to climate change solutions of $10 billion by 2020 and $25 billion by 2030.
Increased the proportion of renewable energy financing from 45% to 65% between 2011 and 2017 in the total electricity generation portfolio.
Launched industry-first sustainability scoring capability to BT Panorama, showing how investments on the ASX200 and over 200 managed funds rate on environmental, social and governance factors.
Issued an offshore currency Climate Bond for US$50 million, a first among the Australian banks. 
Better financial futures
Increased lending to the social and affordable housing sector to $1.32 billion.
Introduced a number of new products and services to meet the changing needs of customers, including Westpac Life and Bump savings accounts, and a new basic credit card, Westpac Lite, with an interest rate of 9.9%.
Released our first Financial Inclusion Action Plan, laying out our vision and guiding priorities for the next 12 months, including around the areas of crisis and hardship, understanding money and inclusive growth.
Made available close to $475,000 in microfinance loans with Many Rivers Microfinance to support Indigenous Australian business owners.
Media Contact:
sustainability@westpac.com.au
Twitter and Instagram:
@WestpacSustain